Intimacy can take many forms, but highlighting self-intimacy is one of the most important and reflective tasks one can do.
---
What is self-intimacy?
Normally when we think of intimacy, we think of relationships with partners or sex. Self-intimacy can take the form of many things, but we're viewing it as a form of radical self-care to reflect on your inner thoughts and emotions regarding who you are and the joy you feel about where you are in life.
Self-intimacy can be painful, as it requires taking the time to become more aware of your feelings and taking part in acts of service to care about those feelings. It's not easy because it requires you to face your demons and challenge the unhealthy behaviors you might use as a coping mechanism for the things that don't bring you joy in life.
Investing in self-intimacy is important to be able to understand your relationship with yourself and also with the people and things around you. It's an important part of being a partner since it helps you learn more about yourself and express your findings with your loved ones.
Becoming comfortable with feeling how you feel enables you to tap into those reservoirs of self-love you might not even be aware you're capable of having. No, this doesn't mean becoming obsessed with yourself (although, why not?), but rather being able to recognize your own emotions and act in service of those emotions to make yourself happy. This includes taking a step back to assess a situation and your feelings towards it before reacting, enabling you to do better and be better in relation to yourself as well as others.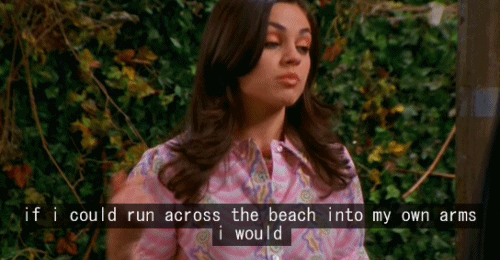 Mila Kunis GIF - Find & Share on GIPHY
Giphy
It also means recognizing toxic patterns of behavior and implementing acts to break them, as well as setting boundaries within relationships. Ask yourself questions such as "Do I enjoy being with these people?" and "Am I allowing myself to really connect with others to be treated the way I'd like to be treated?" These might be hard to confront but ultimately result in your understanding of the love you deserve and accept into your life. Knowing you're worthy of quality love enables you to attract it in all aspects.
Being vulnerable with yourself allows you to be more vulnerable with others. Being honest with yourself will allow you to be more honest with others. Meditate on questions centered around your solitude – do you like being alone? Are you comfortable with it? Are you empowered by your own presence? If not, you could be having issues spending time with yourself, which is always a no-go. Feeling comfortable alone without feeling lonely is an empowering emotion that only enables you to value the company of others even more.
Self-intimacy also allows you to learn more about what empowers you and makes you feel like a confident, sexy person. Sexy meaning being someone that excites you and arouses all the right parts of you – you really can do all bad by yourself, we promise! Confidence like this will allow you to discover your true sexual energy and what you like.
In short, self-intimacy is sitting with yourself to know more about who you are. Understanding that you're worthy of love, worthy of knowing yourself to be better, feeling confident, and discovering your sexual energy all are worth looking into! You got this, mija!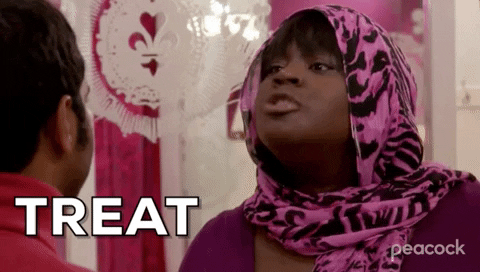 Treat Yourself Donna Meagle GIF by Parks and Recreation - Find & Share on GIPHY
Giphy
How can I practice self-intimacy in my day-to-day?
Ready to nurture and pamper your inner self every day? Here's your essential checklist to keep handy:
Redefine Intimacy: Think beyond romance. Picture self-intimacy as a transformative journey of self-discovery, shedding light on your inner world.
Embrace the Emotional Workout: Like spring cleaning for the soul, sort through your feelings. Keep the joy, toss the junk.
Invest in Your Inner World: It's emotional homework that pays off big time. The better you know yourself, the richer your connections with others become.
Own Your Emotions: Understand and navigate life from a space of clarity. Pause, reflect, and act with intention.
Break Self-Sabotage: Identify patterns that hold you back. Do you vibe with your circle? Are you settling for less than you deserve?
Ask the Tough Questions: Dive deep. Ponder about solitude – is it comforting or unnerving? Find peace in your own company to deepen connections with others.
Raw & Real = Golden: Honesty with yourself is a direct path to forming genuine connections with others.
Find Your Sexy: No, not just that kind. The confidence, the energy, the magnetic pull that says you're the lead in your life's story.
Discover the Joy of Solitude: Recognize the beauty of being content in your own company. That peace makes shared moments even more special.
Celebrate Yourself: At the end of the day, self-intimacy is about realizing you're kind of a big deal. Dive in, and discover the magic that's uniquely you. Cheers to the journey!