Ginny & Georgia is the latest of newly released Netflix shows getting everyone talking. The show itself centers on the life of grounded Ginny (full name Virginia) and her sassy but lovable mother Georgia. The show covers a variety of themes while teaching us tons of life lessons along the way.

---
Georgia is a powerful woman with great looks. At 31-years-old, she has two children: her 15-year-old daughter Ginny who is normally very responsible but has also grown used to dealing with her mom's antics, and the adorable but shy nine-year-old Austin who is good-natured in emotion. Georgia seems like the girl next door who loves the good life in addition to her children. Ginny on the other hand seems to be her mom's polar opposite in most cases: more serious, and definitely getting a good bout of teen angst to go along with her antisocial personality.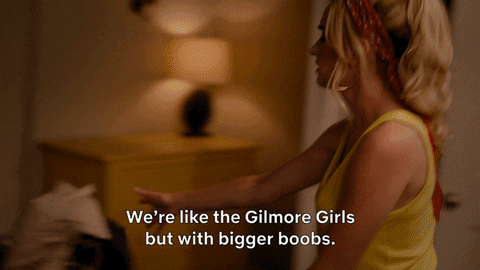 Scott Porter Georgia GIF by NETFLIXGiphy
When the family moves to Westbury, Massachusetts after the death of Georgia's husband, life for Ginny starts to change: she makes friends, has boys interested in her for the first time, and also comes to terms with many things a biracial individual deals with. From acknowledging her Blackness in a way she has never had to do, to abandoning her natural hair texture in favor of a look that resembles her white friends' hair, Ginny's story acknowledges many inconvenient truths of existing as a biracial child.
Ginny's is a classic coming of age story but with a serious update. Dating her half-Taiwanese boyfriend leads to a scene that says a lot about the perception of race and the "oppression Olympics" that can come from misunderstanding other's bicultural experiences (Ginny's "I speak more Mandarin" than you line to Hunter's "You're barely Black" retort had us shook). Growing up biracial in the United States isn't easy, and is something many first, second, and third generation Latinx children can relate to. Often feeling not enough with similar feelings of existing with one foot in one world and the other foot in another makes this show even more relatable while watching.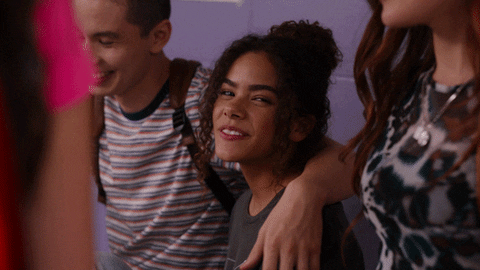 Scott Porter Georgia GIF by NETFLIXGiphy
The show effectivley combats many stereotypes biracial kids often face, including the hate speech and microaggressions we deal with quite often ("that's the whitest Black girl I've ever seen" is one Ginny faces). Latinx kids can deeply relate to the things Ginny deals with, even if it is in her experience as a biracial Black and white woman. From the inability to address what she's feeling to finding community in Bracia, the darker skinned Black girl at school.
One of the most important actions Ginny takes in dealing with the insecurity that comes with "otherness" is being able to take ownership of her narrative. Though we don't approve of blackmailing your AP English teacher, we can definitely take a step back and appreciate the nuance Ginny's newfound empowerment brings. The writers also took a misstep when they learned into a common "slut shaming" narrative when they chose to reference Taylor Swift and her dating history.
Without taking control of our narratives and embracing our "otherness", we cannot undo stereotypes that society places on us. It's up to us to understand our stories and embrace them accordingly. Use this show as an inspiration to do so mija, you got this!