Latinas Are Fighting Against Voter Suppression in Florida

Sponsored by: New Florida Majority
New Florida Majority is building political power of marginalized constituencies in Florida.
Voting is widely recognized as a U.S. principle and basic democratic right. However, Florida's far-reaching history of voter suppression, like Jim Crow era barriers that barred Black Floridians from voting and recent confusion around the removal of some people with felonies from voter rolls, is evidence that not everyone in this country has had the opportunity to make their voices heard. Throughout the state, Latinas have picked up the fight against voter disenfranchisement.
---
Latinxs in the state have been bombarded with right-wing disinformation and conspiracy theories that have left many in the community disillusioned, and some discouraged from voting. Latina organizers have been challenging these efforts and tactics that they say threaten the U.S. democracy by limiting the ability or reducing the interest of voters to exercise their right to vote.
Get to know the Latinas that are fighting back and mobilizing to expand democratic rights for communities that have been historically marginalized and excluded. Below is a condensed and lightly edited version from their Q&A with Luz Collective.
Ysabella Osses, Gender Justice Organizer at New Florida Majority
At New Florida Majority (NewFM), a voting rights group I'm a part of, we organize in different areas in an effort to expand the electorate so that it's reflective of the multiracial, multilingual, and multicultural people who make up the state as well as develop leadership in these communities. I'm a Gender Justice Organizer, and I lead the Bad Bitch Brigade, where we work to advocate, defend, and create leadership programs for women and nonbinary people of color. A lot of our work is educational. We create spaces where our communities can learn about the work of elected officials and how local governments work. It's also about mobilizing. We canvass, phone-bank, and create relationships with the people, and not just during election time, to remind them of their power all year long and empower them to speak with their representatives. One of the aspects of our work that I'm most proud of, however, are the campaigns we co-organize with marginalized groups. For instance, we work with formerly incarcerated populations to bring full voting rights to people with felony convictions and bring dignity to those who are presently incarcerated, including ensuring they have the hygiene products they need and that pregnant individuals are not forced to give birth in shackles.
This work is important to me because I lived through the aftermath of a right-wing dictatorship in Chile, where I was born and raised. To me, it's critical to bring awareness to U.S. imperialism and how foreign policy can affect the quality of our lives. There is no way I cannot be a political person. All my life, I've seen the effects of inequity, poverty, and patriarchy work to keep my family and me in one of the poorest neighborhoods in my country. When I came here, I saw that we truly have the power to organize people, build relationships based on love and compassion, and make change happen. Here, change isn't just an idea; it's actually possible if you truly believe in it.
Ana Sofía Peláez, Co-Founder of the Miami Freedom Project
The Miami Latinx vote has always been misunderstood. While reports have long emphasized the Cuban Republican vote, the truth is that there is a lot of diversity in the Cuban-American population that has been underreported and underexplored. Within our own families, there are a lot of different positions and perspectives. But this complexity isn't visible because the Cuban-American identity has become synonymous with conservatism and republicanism. This imposed identity forces many who deviate from what has become the "norm" to self-censor and has allowed politicians to not address the real issues that impact us. Even more, it has signaled to other Latin American communities in the state that even if they have different political leanings they don't have the numbers to out-vote the so-called Cuban conservative monolith. This is dangerous and limiting. Whenever you simplify or put people in a box, you lose out on a chance to see the evolution or give people the chance to explore different political, cultural, and societal identities. This is what I'm trying to do with the Miami Freedom Project.
Co-founded with my late friend Patrick Hidalgo, the Miami Freedom Project is a non-partisan voter education program dedicated to giving people in the city the opportunity to explore progressive values. It's a space for progressive Miamians to talk about issues, policies, and different things that affect all of our communities. I think because Miami has a unique makeup of people who have experienced significant political trauma, we need a space where we can take the temperature down and allow people to express themselves fully, to explore every idea, and to potentially see a new way forward that can be more positive and constructive than the political toxicity that has become part of our culture. With Covid-19, recently we have primarily been focusing on educational content creation.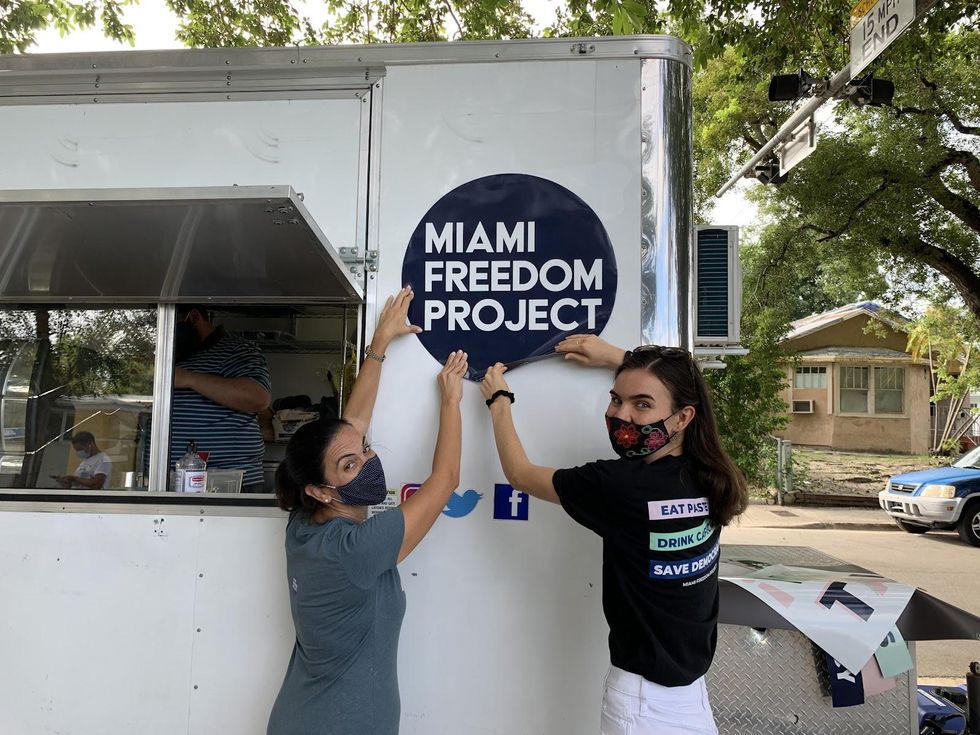 (Photo courtesy of Ana Sofía Peláez)
It's my belief that through open conversations that allow people to explore ideas, understand the perspectives of others, and also process the pain and trauma that propelled many of them to move to this city from their homelands that we can begin to change the Miami electorate to one that is more progressive. Miami has been called a city of the future, and I believe that. We have always been a global city with a complex makeup. It's my hope that this work helps give people the freedom to break from limiting identities and help move us forward for the betterment of everyone.
Frances Colón, CEO and President of Jasperi Consulting
The political leadership in Florida, at the state level and even in Congress, has for a while been in the hands of more conservative thinkers that typically deny the facts and science of climate change. Many have refused to act or take on the policy measures that are needed. In Florida, a state susceptible to hurricanes, droughts, extreme heat, and flooding, this inaction has allowed the region to be ground zero for severe impacts. Through Jasperi Consulting, my hope is to educate communities on science and the environment so that they are energized to vote with these issues in mind.Created in 2017, Jasperi Consulting advises civil society organizations as well as domestic, local, and federal governments on science and environment evidence-based decision-making. I do this mostly by developing relationships with organizations on the ground that are advocating for the rights of the most vulnerable.
I'm a scientist by training, and my career is based on the desire to have facts that inform how society makes decisions that can better people's lives. I chose science as my path in life because I saw science as a tool for people's wellbeing. Like me, the Latinx community has a direct connection with nature and closeness to the environment. I think for Latinxs to see and understand what is happening around them when it comes to climate change just takes someone making the connection for them. Once they do, it becomes an important issue they take with them when casting their ballot. The Latinx vote is so important in this election. We are the second-largest voting bloc and we are the largest minority group. Every vote matters, but so much has been done to tell the Latinx voter in so many ways that their vote doesn't matter. However, nothing could be further from the truth.
Cristina Robinson, Communications Director at Alianza for Progress
At Alianza for Progress, a civic engagement nonprofit serving Florida Latinxs, we primarily work with the Puerto Rican community, understanding that providing them with the information needed to be civically engaged can help expand the Florida electorate and make it more representative of the people who live here.
Much of the work Alianza for Progress does center on education, empowerment, and mobilization. Through on-the-ground canvassing and community events to digital content creation, we inform communities about local, state, and federal elections, help them understand the voting process – which generally looks different from their home countries – and enlighten them on some of the candidates. Sometimes, we create spaces where community members can listen and speak with candidates in person. Amid the COVID-19 pandemic, we have switched to digital organizing, running aggressive texting, and phone-banking campaigns. Aside from the educational and mobilization efforts, we also create campaigns that we hope empowers individuals and communities to be a part of change-making. Most recently, for instance, we ran a successful campaign that got local officials to redesignate a local school named after a Confederate to Roberto Clemente Middle School, the first school in Orlando to be named after a Latinx person.
This year Alianza for Progress is one of five organizations that have been asked to do ballot cure. This means that we are able to assist voters who sent in ballots that were rejected, whether because they forgot to add their signature or other reasons, by helping them cure it before Election Day and making sure their vote counts. There are many problems in Florida, but we believe that people have the power to make a change. We want to ensure that they have what they need to do that.