9 of the Best Telenovelas of All Time

Many of us might fondly remember growing up with novelas playing after la cena, curled up on the couch watching the overly dramatic and rarely believable drama unfold (wait, so the not-murdered switched-at-birth twin's suegra's cousin is the ACTUAL heir to the family fortune??). Into adulthood novelas remain that escape from reality that we love to dive into.
Check out the Luz list of the best telenovelas to revisit and reminisce about.
---
Maria la del Barrio
One of the most famous novelas in TV history goes down as Maria la del Barrio. Featuring superstars Thalia as Maria and Fernando Colunga as Fernando De La Vega, our all-time favorite telenovela star (and meme queen) Itati Contoral plays Soraya Montenegro as the villain in this classic novela. This classic rags to riches story resonated with so many U.S. based audiences as this novela coincided with peak migration of Latinos to the United States - many arriving with the myth of the American Dream in mind.
Rubi
Rubí Pérez is a poor woman intent on making it by marrying a rich man. Bárbara Mori dazzles us in this novela about a woman who falls in love with Alejandro, a middle class doctor, only to dump him in search of the life she has always wanted with Héctor, a rich architect. The twists and turns are endless in this classic story, making it a must-see in our book.
Teresa
Who doesn't love a self-sabotaging protagonist looking for a way out of poverty? Teresa is one of our most beloved novelas with Angelique Boyer in the main role, scheming her way through life looking for financial security after growing up poor. Love interests come and go, but Teresa is always true to her goals in this story: "Entre ser y no ser, yo soy" after all.
Dos Mujeres un Camino
A classic love triangle ensues when Johnny, a married man and truck driver from Mexico, falls in love with a woman while delivering goods to the United States. Erik Estrada, Laura León and Bibi Gaytán are the main characters in this show from the early 90s and they're sure to stir up some memories. Not to mention the hit theme song performed by Laura Leon is a cumbia banger.
La Usurpadora
We can't forget about La Usurpadora, featuring Gabriela Spanic as twins Paulina and Paola with Fernando Colunga as Carlos Bracho, the main love interest for both characters. Separated twins at birth, dramatic romance, and an evil sibling make this one of the best telenovelas in history.
Amigas y Rivales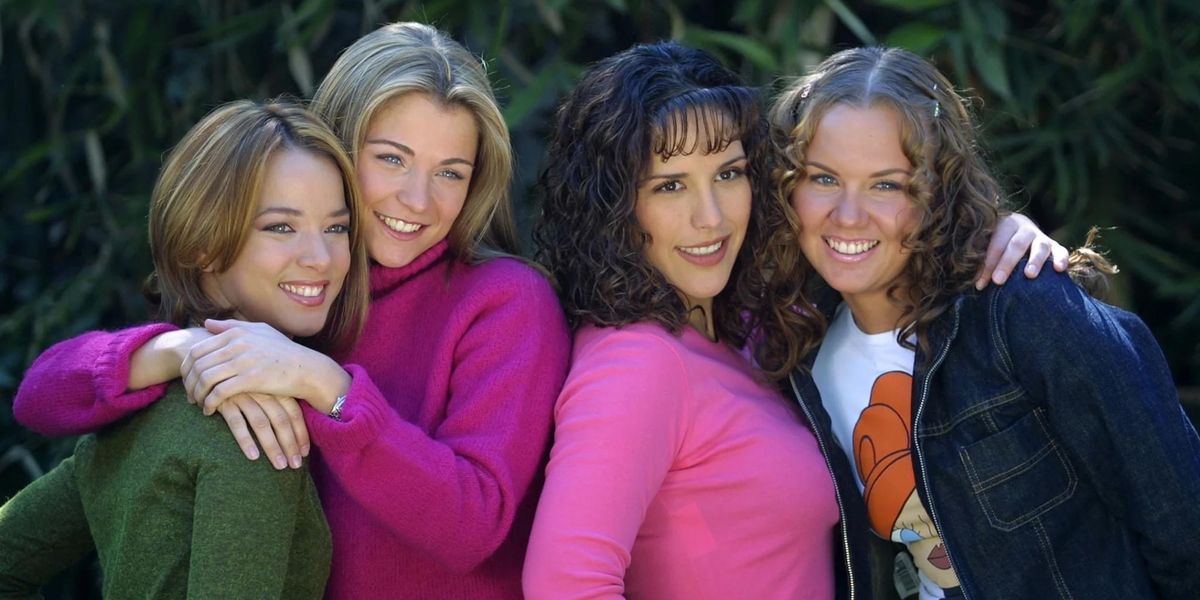 A star-studded show, Amigas y Rivales tells the tale of four women from all walks of life as their lives intersect in different ways. Endless drama surrounds Laura, Jimena, Ofelia, and Nayeli as they navigate life together, a true coming-of-age story (with a huge dose of twists!). It also became one of the first novelas to resonate with millennials, as an insight into life as young adults.

Rebelde
Who else loved Rebelde so much that you'd end up singing the theme song for weeks? We definitely did. Six students attending Elite Way School named Mia, Diego, Roberta, Miguel, Lupita, and Giovanni all navigate school while coming together to form a band. Elitism runs amok in this story of love, music, and a classist society - the drama!
La Reina Del Sur
Kate del Castillo plays Teresa Mendoza, a woman from humble beginnings whose life takes a dramatic turn after the murder of her pilot boyfriend. This series quickly escalates as Teresa makes her way to the top of the drug trafficking world in Spain. A show that took an eight year hiatus before coming back in 2019, it's now been renewed for a 3rd season and we can't wait to watch!
La Fea Mas Bella
Angelica Vale takes the screen as Leticia Padilla Solis (also known as "Lety") with Jaime Camil as Fernando Mendiola in this love story. By mainstream beauty standards, Lety is an unattractive woman who lands a dream job at Conceptos, Mexico's leading media company. Elizabeth Alvarez, who plays Marcia, Fernando's jealous fiance, plots to keep him all to herself. Drama unfolds in this classic novela that resulted in an American adaptation (Ugly Betty) that cast America Ferrera as the lead.
From Your Site Articles
Related Articles Around the Web