Latinx Creative Kim Guerra Wants You to Know that You're a Brown Badass Bonita

Kim Guerra/Brown Badass Bonita
It all started in a bathtub at four in the morning. In 2014, Kim Guerra found herself in Seattle, many miles from where she grew up in California's San Fernando Valley and she knew something wasn't right.
---
On paper, everything looked fine: she was married, pursuing her master's, and living well. But for Guerra, who felt uninspired and estranged from her Latinx roots, nothing could be further from the truth.
"I felt like my fire was going out," she told Luz Collective. "I needed to reclaim myself and my community." By the time she stepped out of the bathtub, she decided to step into her new life, and Brown Badass Bonita was born. Guerra left Seattle and her marriage to return to California.
Today, Brown Badass Bonita is a powerhouse brand that speaks to young Latinx people across the country and world with its messages of empowerment and cultural pride. But when Guerra started, she began with a small Etsy shop, selling one T-shirt at a time. It was her bold and defiant messages, set against a backdrop of soft, floral imagery, that caught the eye of so many.
"Creating and designing has always brought me joy," Guerra, now 28 years old, said. "Little by little, it became a shop. Then it was a collection, a book, and a brand."
It's clear that Guerra's message resonates. From her T-shirts to her books of poetry, Guerra's work is grounded in the idea that self-love can be revolutionary, and her messages intentionally subvert the cultural expectations of women.
Shirts that proudly declare the words, "greñuda," "chingona," as well as the feminist slogan "Mi Cuerpo, Mi Cucu, Mis Reglas," challenge the patriarchal expectations placed on young Latinas to prize beauty and marriage over everything else—norms which Guerra was familiar.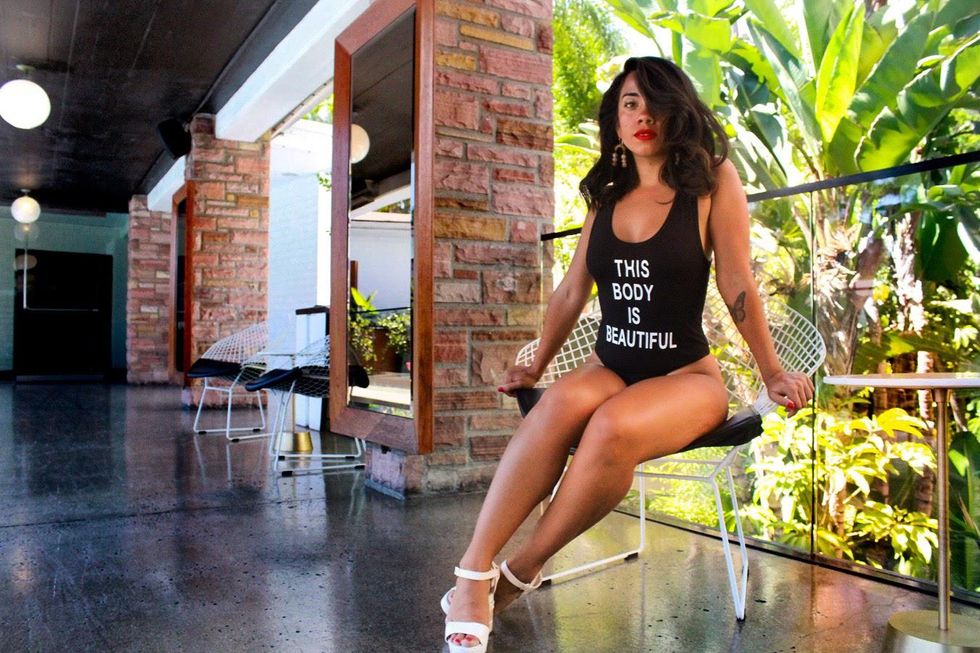 (Photo Courtesy of Kim Guerra)
"I still struggle when people ask what I do, especially with my family," Guerra said. "My grandma will say, 'estas bien loca, just find a man and get married.'"
But for many Latinx young people, it's exactly that traditional attitude that makes Brown Badass Bonita so refreshing and appealing. Instead of conforming to a traditional idea of Latinx feminine identity, Guerra is envisioning new possibilities not just for Latinas but for the Latinx community as a whole. She believes that Latinx identity should be intersectional and inclusive of everyone.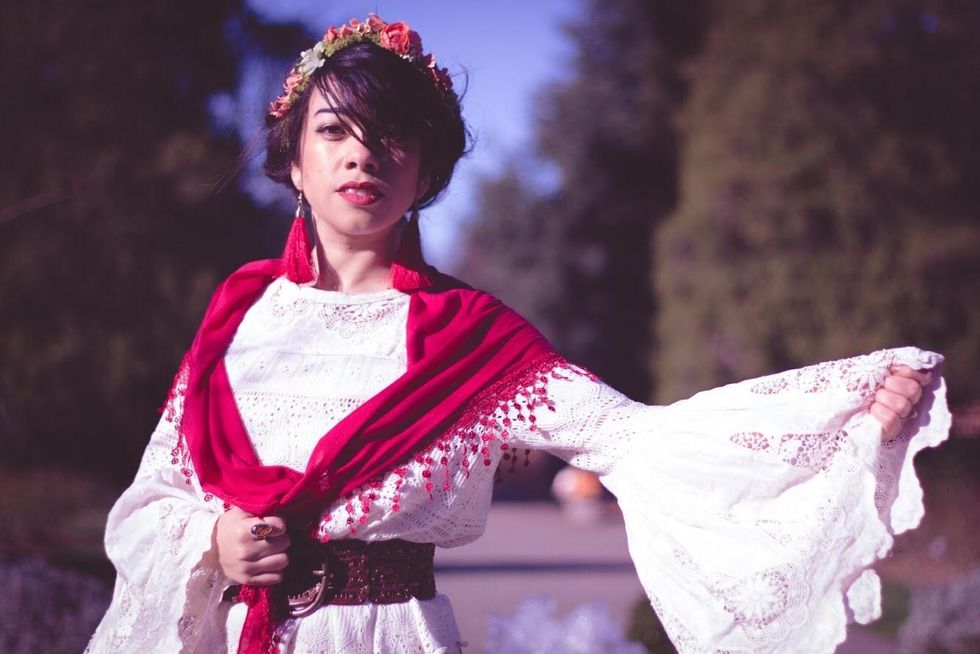 (Photo Courtesy of Kim Guerra)
"As Latinx people, we're very ride or die for our community," Guerra said. "What if we use that ride or die we have for our families for an even broader community? We can use our resistencia, that lucha we have and extend it to our Black, LGBTQ, and Indigenous communities."
As the Presidential election looms in November, that inclusive attitude is needed more than ever. Recently acknowledged by Univision's Premios Joventud as an Agente de Cambio, Guerra believes that we need to talk about the things that we've typically been told to stay calledita about—racism, homophobia, and colorism within the Latinx community.
"We can't be afraid to speak up," Guerra said. "There's work we need to do, and whether you're having those conversations face to face, or just creating art that has a message, we have to hold these conversations."
In recent months, Guerra has witnessed the power of speaking up—when she created her shirt "White Fragility Kills," she was stopped by people on the street who wanted to talk about the importance of the Black Lives Matter movement. She hopes more Latinx creatives feel empowered to take advantage of art as a tool for change. "We can be creative with our talents and gifts," Guerra said.
Each day, Brown Badass Bonita continues to grow. Guerra now employs her sister to help the brand expand and in the near future, she plans to host workshops and retreats that use the creative arts, including storytelling, as a way of healing from trauma.
Offline, Guerra is currently finishing her Master of Science in Marriage and Family Therapy. As true to her principles online as she is in real life, all of her clients are people of color. Ninety percent are Latinx women.
When asked what people can do right now during COVID-19 to reduce stress and anxiety, Guerra shared that she's been keeping in touch with her friends through weekly "queendom chats" and creative activities like paint nights. Her advice is to remember the healing power of community.
"Find creative ways to see your friends and your family," Guerra said. "This is when we need love—and one another—the most."