Latin-American 'Green Wave' Gains Momentum Amongst Worsening U.S. Conditions for Abortion Access

Extreme Abortion Bans are Causing Irreparable Harm. Can Latin America help?
Photo Credit: Dee Dwyer, Courtesy of National Latina Institute for Reproductive Justice
For many advocates in the reproductive rights and justice movement in the United States, June 24, 2022 was a day of disbelief, grief, and anger. Roe vs. Wade, the Supreme Court case that had guaranteed legal access to abortion across the country, had been struck down just six months shy of its 50th anniversary.
---
Even though Donald Trump and his right-wing supporters explicitly told many that this was their goal all along, it was still a day of shock.
"The U.S. is one of the few countries in the world that have actually gone backward on abortion rights," explains Giselle Carino, director/chief executive officer of Fòs Feminista, an international alliance for sexual and reproductive health, rights, and justice. The U.S. is one of just four countries, alongside Poland, Nicaragua, and El Salvador, to regress on abortion rights in recent years. The result is a varied legal landscape extremely dependent on the state one lives in. In 14 U.S. states, abortion is now illegal, and in ten more, the legal climate is described as "hostile" by the Center for Reproductive Rights.
By contrast, there have been a number of recent wins on abortion rights in Latin America. Since 2006, Argentina, Colombia, Uruguay, and most recently Mexico have legalized abortion. In El Salvador, in the same time period, advocates have been able to get at least 65 women released from prison who had been incarcerated for alleged abortions—prison sentences ranged anywhere from a few years to a few decades. While the laws have not improved there, these releases have shown the power of feminist organizing and brought more resources to prevent prosecutions based on pregnancy outcomes.
Many of these wins have been propelled by what's being called the Marea Verde or the Green Wave, named for the green bandanas many of the activists have adopted. It's an intersectional and transnational feminist movement that began with Argentinian women protesting the high rates of femicide and has spread across the region to protests for legalizing abortion and other gender justice issues.
While a simplistic comparison between the political situation in the U.S. and the situation in any country in Latin America is going to miss a lot of nuance, there has been a prevailing misconception that we would never see better access to abortion in extremely conservative Catholic countries in Latin America than we would in the U.S. That myth has been dispelled, and these recent successes, coupled with the setbacks domestically, have some advocates in the U.S. looking to Latin American activists for inspiration, hope, and lessons about the challenges they might face and the tactics that might turn the national tide toward access once again.
Looking South for Inspiration
For U.S.-based Latinx reproductive rights and justice activists, connecting with movements in Latin America has looked a number of ways.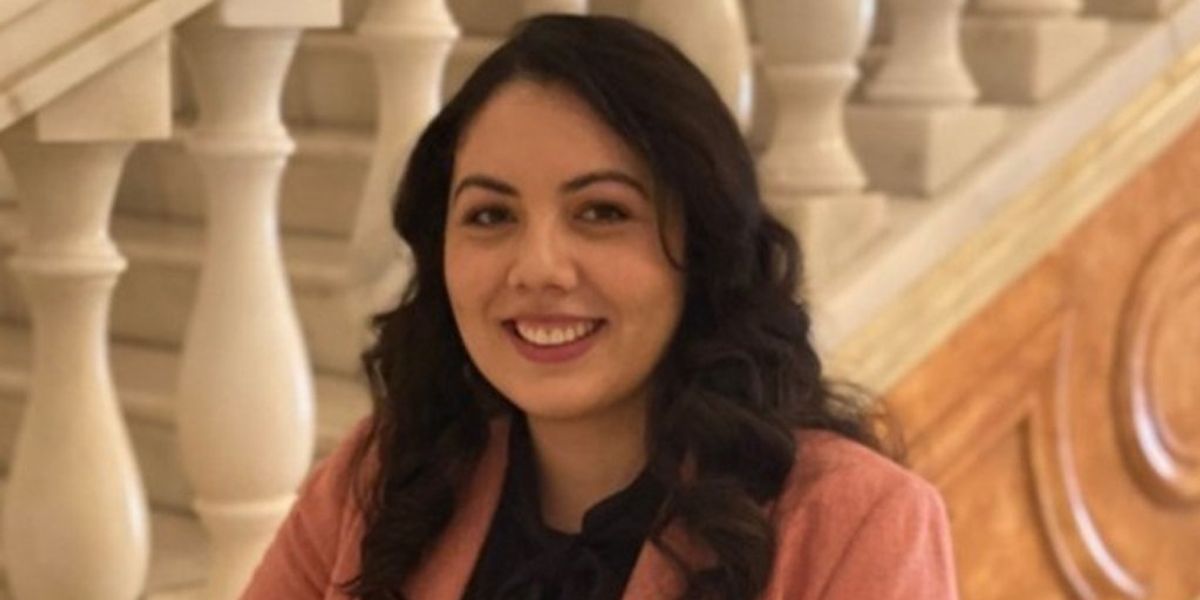 Limayli Huguet, helpline counselor at If, When, HowLinkedIn Photo
For Limayli Huguet, helpline counselor at If, When, How, a legal advocacy organization working in the U.S., her family ties to Mexico and Peru have kept her connected to movements in those countries. "So I'm a first generation American, my mom is an immigrant from Mexico and my dad is an immigrant from Peru," shares Huguet on a recent zoom interview with Luz Media. "So all of my family is still in Mexico and Peru. I've spent a lot of time in both countries and just have always admired the movements in these countries where at times it can feel a little hopeless." Huguet says she sees the cultural barriers to public opinion on these issues, but also the perseverance of activists, especially in Mexico where the Supreme Court recently decriminalized abortion nationwide. "It's just always been really inspiring," says Huguet.
Ena Suseth Valladares, former director of programs for California Latinas for Reproductive Justice (CLRJ) recalls seeing a billboard when visiting family in Nicaragua. "I remember there was a letrero, a billboard. And it was like, el Aborto es Vida, or something like that, where they were reclaiming that language." Valladares reflected on how much of a contrast that was to the pro-choice language she saw in the U.S. "I was super curious, so I did a little digging. And of course, there are networks. And of course, there's activism happening." Valladares also learned more about reproductive rights and justice campaigns in Latin America when looking for Spanish language resources about abortion to use in her organizing in the Los Angeles area with CLRJ. "It [was] very intersectional, how they're talking about this [issue]. What was also very striking is their call for not only un abortion seguro [a safe abortion], but also gratis [free]."
While the 1973 Roe vs. Wade decision guaranteed legal access to abortion in the U.S., other anti-abortion laws like the Hyde Amendment prevented coverage under federal Medicaid policy, meaning that for many low-income people seeking abortions, cost is a huge barrier. A large grassroots network of abortion funds have cropped up in response, but reproductive justice groups like CLRJ have long wanted to see a push for universal funding, an agenda that was often seen as too radical by mainstream groups. "I was just very inspired honestly," reflects Valladares. "Super inspired by these very patriarchal societies where the Catholic Church still has a stronghold in this region, and yet you have all these folks turning out, really united under their messaging."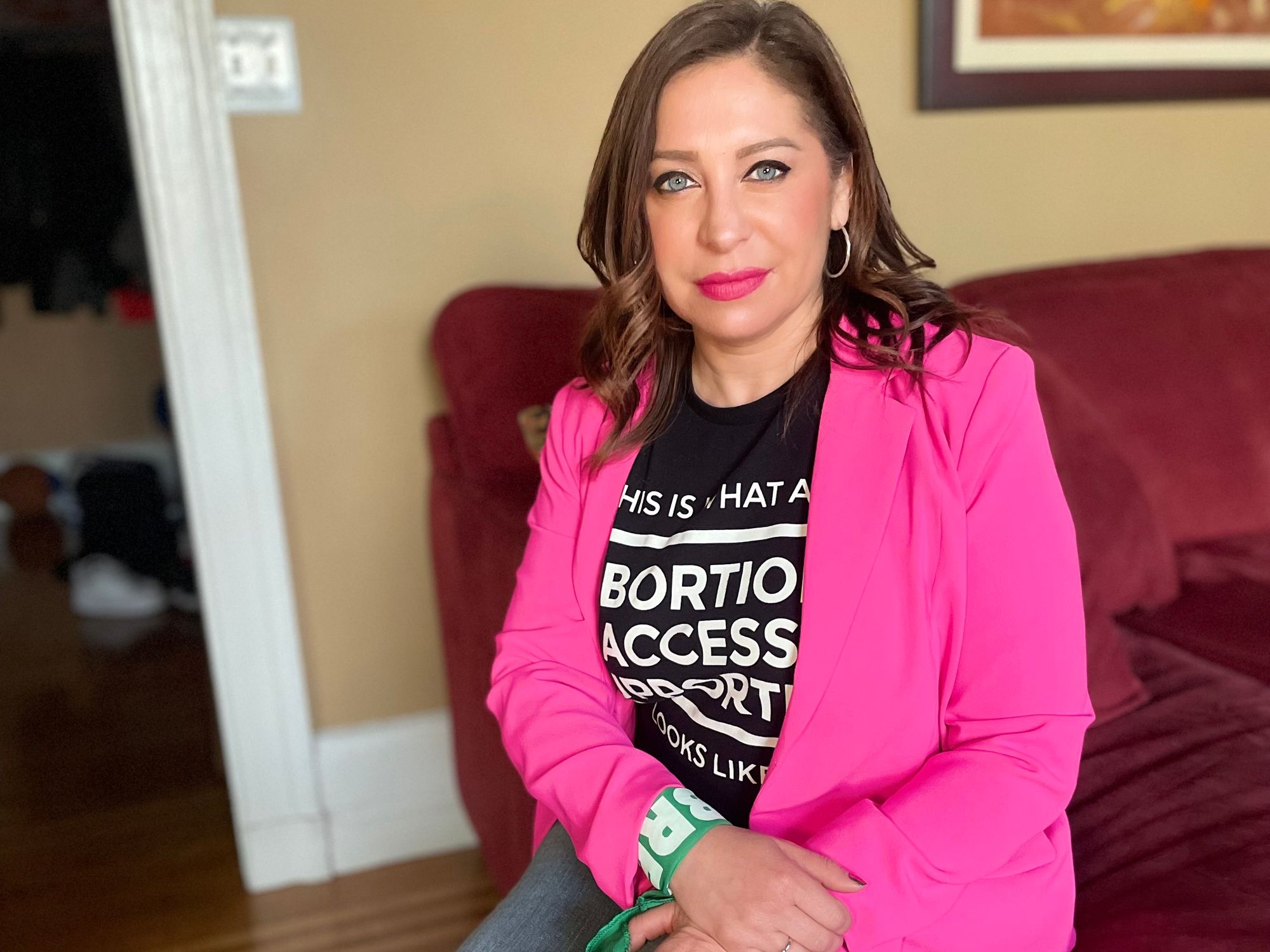 Jessica Gonzalez-Rojas, New York State Assemblywoman from Queens and former executive director of the National Latina Institute for Reproductive Justice
Jessica Gonzalez-Rojas, New York State Assemblywoman from Queens and former executive director of the National Latina Institute for Reproductive Justice, remembers a gathering with Argentinian activists about 20 years ago. "In the mid 2000s," Gonzalez-Rojas says, "we got to connect with the Argentinian reproductive justice group who came to the United States. It was really interesting because they were looking to the U.S. to try to figure out how to change the hostile policies that they have in Argentina."
In 2021, the Argentinian President signed a law permitting abortion up until 14 weeks. "It's wild to see how they've been successful in moving the needle, ultimately decriminalizing and liberalizing abortion, while the United States has eroded our rights over the last couple of decades. Now we're in the worst place I can imagine in my generation. The idea that they would say, look North, and now we have to look South, because to see the ways in which they've organized for reproductive justice, but also for gender justice, has been really powerful."
Preparing for the Worst
It's not just inspiration that advocates are looking for when they connect with movements in Latin America. It's also an understanding of what may lie ahead for the U.S. if the current political trajectory continues.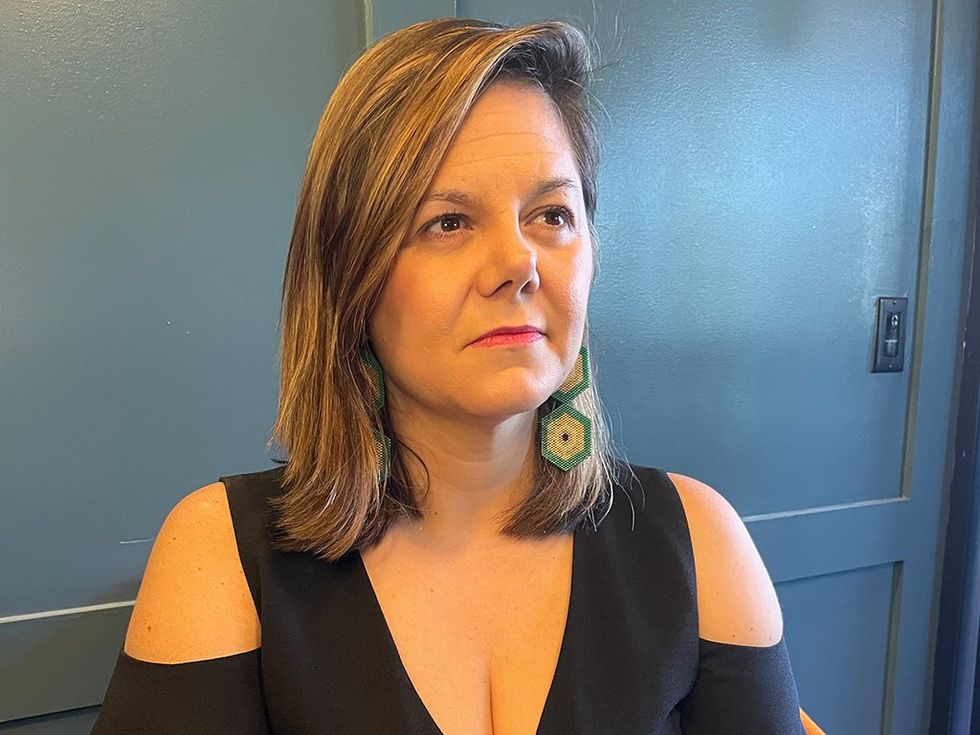 Paula Avila-Guillen, executive director of the Women's Equality Center
"I get [so frustrated] when I see what is happening in the United States," says Paula Avila-Guillen, executive director of the Women's Equality Center (WEC). "Something that we have seen in so many other places in the world, and people in the United States keep telling you 'Oh, no, no, we are not going to head that way.' And you're like, 'No, no, you're heading that way, trust me.'" This attitude might be attributed to a false idea of American exceptionalism, but Avila-Guillen thinks the worst may be yet to come.
At WEC, Avila-Guillen is connected to this work across Latin America. Originally from Colombia, Avila-Guillen has lived in the U.S. for almost 20 years, so she understands the different contexts well. "Yes, we are in crisis," she says. "But we have not touched bottom yet. The changes in Latin America didn't happen out of pure optimism. They happened out of desperation, out of the need to do something different, because whatever we are doing is not working. So I think that we're going to arrive to a moment in the United States where we do hit bottom."
One of those potential bottoms is already unfolding, and has been for some time—the criminalization of women for their pregnancy outcomes. This is something that Avila-Guillen knows well from her work in El Salvador, where she supported the campaign that helped release 65 women from prison while working for the Center for Reproductive Rights. Someone not very close to this issue might think that women in the U.S. would never be put in jail for an alleged abortion, but the reality is these kinds of cases have been occurring even before Roe was overturned. In 2011, Bei Bei Shuai was charged with murder after she miscarried following a suicide attempt in Indiana. Just this summer, a Nebraska teenager was sentenced to 90 days in jail for ending a pregnancy using medication. The criminalization of abortion puts many more women at risk, but what people may not realize is that in the worst-case scenario, even women who have natural miscarriages or stillbirths could be at risk of prosecution.
That was the scenario that Avila-Guillen encountered when she arrived in El Salvador to support the campaign to release women from prison. "I was convinced I was visiting women who were in prison because of abortion, which already was hard enough. But when I heard the stories, I realized that they were imprisoned for miscarriages and stillbirths, something they had no control over whatsoever because they were poor. Because they couldn't have an attorney [to] defend them."
In a climate where abortion is criminalized, any pregnancy outcome could lead to suspicion about the cause and attempts to criminalize the pregnant person. One commonality between the situation in El Salvador and the cases we've already seen here in the U.S. is they are driven by prosecutors who are looking to use any legal pathway to charge these women with crimes.
Huguet manages a helpline run by If, When, How, which provides free and confidential legal services about reproductive health and rights. Since the Dobbs decision last year, Huguet says they've seen a huge increase in call volume. "We have gotten a lot of calls asking about the fear and risk of criminalization of abortion, whether it is somebody who is self-managing their abortion and is concerned about their criminalization, or somebody who's experiencing their pregnancy loss and they're afraid because of what they've seen in the media. They're afraid about going to the hospital or sharing with their doctors that they're experiencing a pregnancy loss. And also we have a lot of confusion, people asking about the abortion laws in their state."
In both El Salvador and the U.S., instances where women are criminalized for their pregnancy outcomes often come from prosecutors applying laws that aren't about abortion at all–such as child welfare laws. "In most states, other than Nevada and South Carolina, self-managed abortion is not a crime," explains Huguet. "So it is prosecutors being creative with applying different laws to situations of self-managed abortion. It's important to make sure that people are aware that that is not a crime and so that prosecutors don't overuse their discretion to criminalize self-managed abortion."
Building Bridges Across Borders
Beyond the organic connections that advocates in the U.S. reproductive rights movement make with movements in Latin America, there have also been a number of intentional international gatherings to facilitate learning and building. The most recent was in February of 2023, organized by Avila-Guillen's organization, alongside IPAS and the National Latina Institute for Reproductive Justice. It brought 40 activists from across Latin America to Washington, D.C., to gather with 80 U.S.-based advocates. "When we organized the green wave gathering," shares Avila-Guillen, "we didn't know what to expect. But the level of conversation that got to happen was beautiful. And it was extremely powerful."
The Green Wave Gathering of Las Americas in Washington, D.C. (photo credit: Dee Dwyer)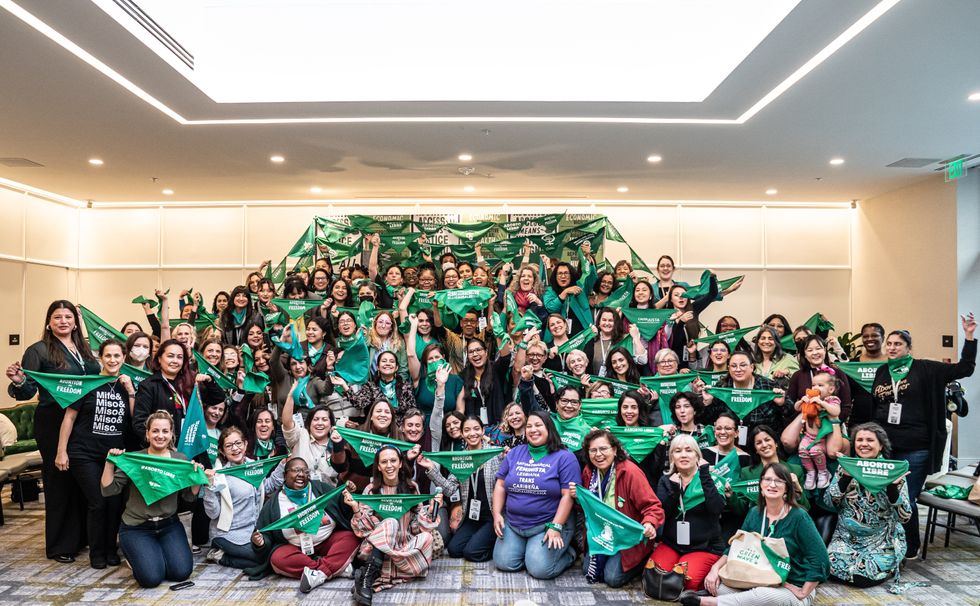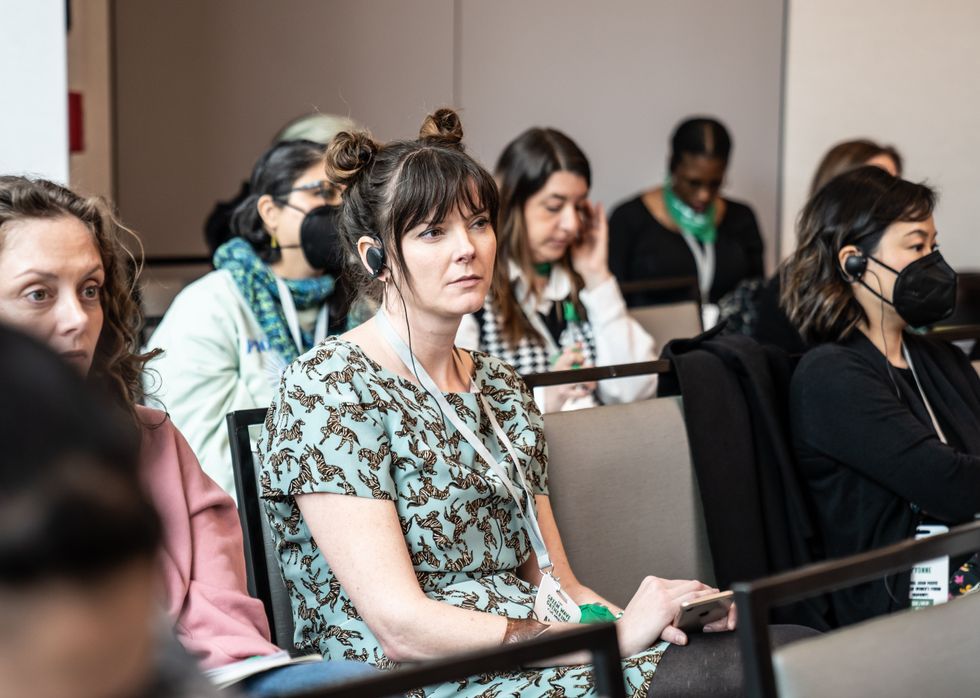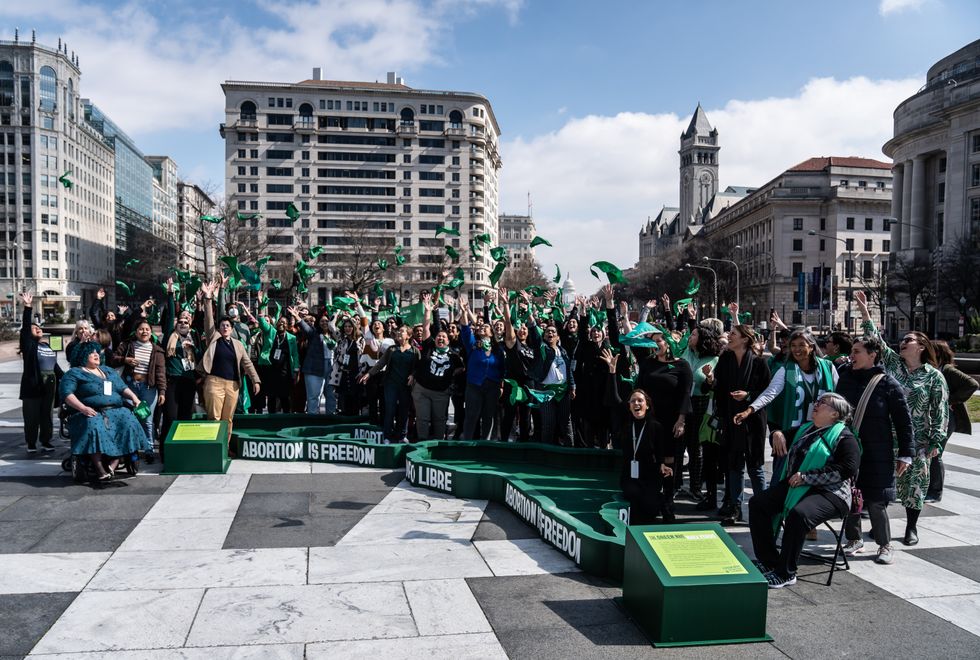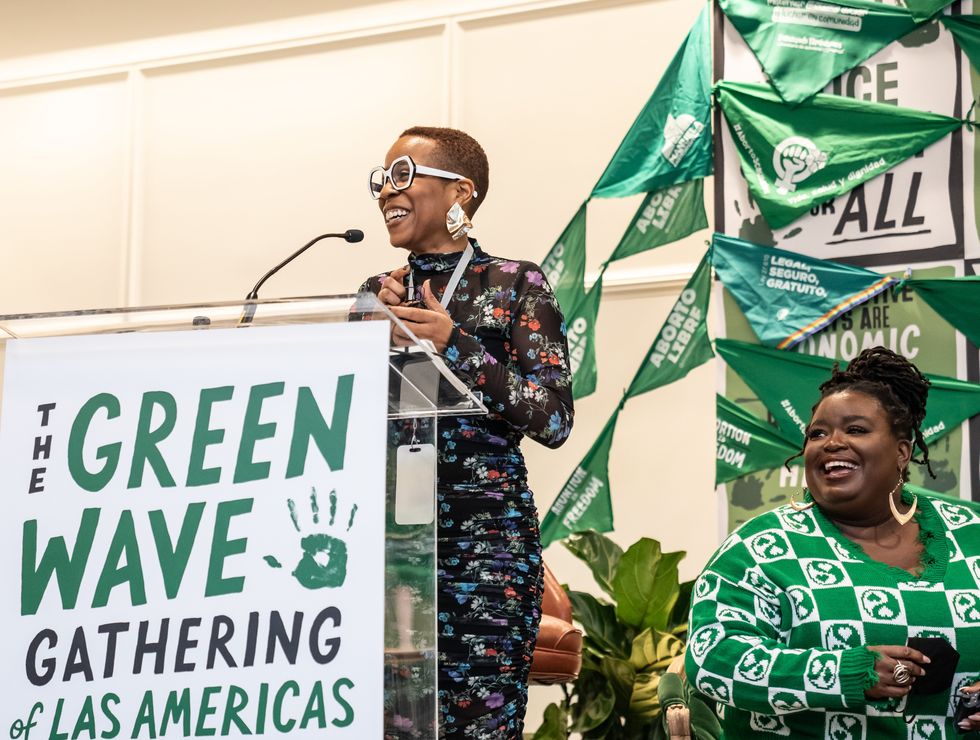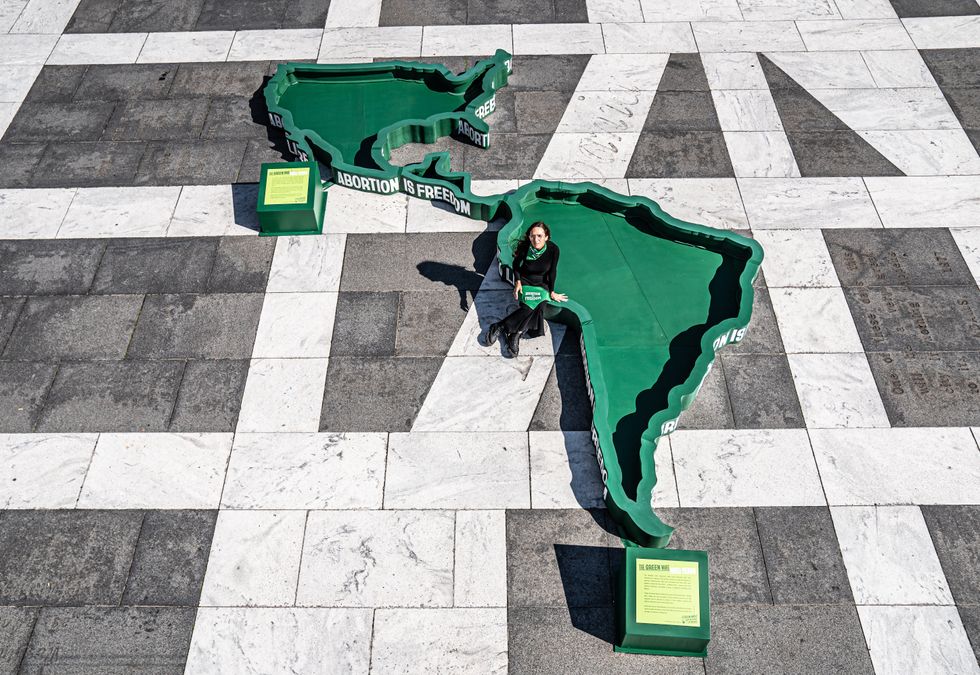 Valladares also attended. "The piece that was really inspiring was folks from the Dominican Republic and El Salvador. Countries that have no exceptions and [abortion is] completely banned. Places where you have people being jailed for these crazy amount of years. And just hearing their hope that things are going to change. They still get together, they still do demonstrations, they still advocate. And I think for us, it was really raw, right? Because it had just been like six or seven months since the Supreme Court struck down Roe. A lot of people were feeling very despondent and I think it was just really inspiring to hear that even in the face of impossibility almost, they were still building those networks and trying to get the care that people need."
Huguet had a similar experience of feeling inspired by the gathering. "It was a really emotional, powerful experience to witness and also to be able to connect with people in other countries. To be able to learn from them and lean on them in times that feel really heavy and like crisis and knowing that they have experienced similar things and being able to share words of wisdom and support was really powerful." For Carino, who is based in Argentina, the gathering was also important. "It was a very special moment," she reflects. "Because coming together, when you have almost never done it, is pretty special. And coming together in recognition of the things we have done, and the things we have won and the things we have lost. It was a really great first step."
As the new post-Roe landscape continues to unfold in its second year, the cross-border connections offer a larger perspective on this domestic struggle. "I would say that our battle for abortion access is intertwined," explains Huguet. "Their win is our win. And so you know, even though right now we are still in a dark point in the U.S. where it is a struggle in some places to access abortion care, that doesn't mean that we are in a worse position. It just means that we're in a position where we are going to work towards getting back that abortion access and learning from our partners in Latin America."