Emily's List Erasure of Latinas and Why it Matters

A few weeks ago, Emily's List–an organization that encourages pro-choice women candidates to run for office–jumped in on the fun Instagram trend of creating a graphic with zodiac signs, only this time showcasing women in politics. But out of the 12 women featured, there were NO Latinas!
I thought: pero, where are the Latinas? And I wasn't alone.
---
Latinas are often left out. And yes, it matters because what it says is that we aren\u2019t part of your consciousness.https://twitter.com/emilyslist/status/1261327983656214535\u00a0\u2026

— Julissa Natzely Arce Raya (@Julissa Natzely Arce Raya) 1589646309
Dear @emilyslist this is why representation matters. Latina/Latinx voters turn out in battleground states. Yourcandidatescan\u2019t winwithout us!

— Barbara Pe\u00f1a Solis (@Barbara Pe\u00f1a Solis) 1589782927
If I'm being honest, my first reaction when I saw this Instagram meme was: Where the hell is Puerto-Rican Alexandria Ocasio-Cortez (AOC), who is a social media queen! She represents the 14th Congressional District in New York, which I'm proud to say is my district. She has 4.6 million Instagram followers. For comparison, the highest-ranking woman in government, Speaker Nancy Pelosi, has just 1.1 million followers. Emily's List failure to include a single Latina when AOC exists is just baffling to me.
What's worse, Emily's List could have selected some of the Latinas they've endorsed in the past, like Veronica Escobar, who made history by being the first Latina to represent Texas in the House of Representatives.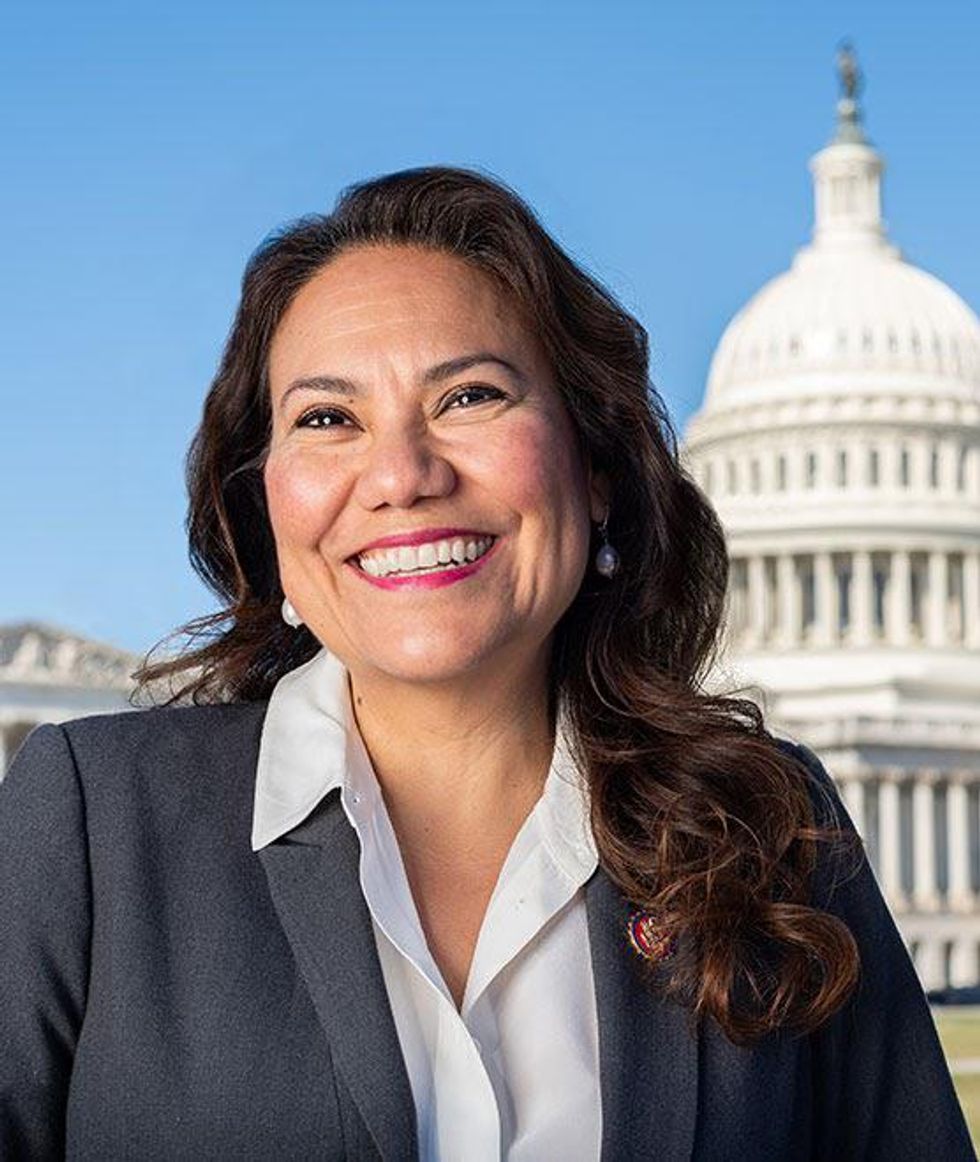 photo credit: escobar.house.gov
It may seem like just a simple Instagram meme, but In 2020, at a time when we knowthe Latinx community should not be taken for granted, not including Latinas feels like erasure. Latinos make up 18 percent of the United States population–the biggest ethnic/racial block in the U.S.
Latinx political power isn't a new discovery – it's been touted for more than one election cycle. Mayra Macias, of the Latino Victory Fund, recently said, "there is no path to victory without speaking holistically to [Latinos]."
I took the time to review Emily List's history, and they share how they have been helping elect women of color to different levels of government, most recently supporting Susana Mendoza, for Illinois state comptroller. Was overlooking Latinas in this graphic simply a mistake? Or perhaps it's indicative of a larger issue about the barriers that continue to make it difficult for Latinas to run for office like when institutions like Emily's list don't see us.
While the Latinx community makes up close to 20 percent of the population, Latinas are still underrepresented in elected office. The nonpartisan group Gender Watch 2018 reports that Latinas represent less than 2 percent of the total elected officials across Congress, statewide elected executive offices, and state legislatures.
While the representation of Latinas is dismal, overall representation of women in politics isn't great with the United States ranking 75th place in the world when it comes to women in office. When women run for office, they are judged more harshly on everything: how they look, how they speak, how "emotional" they are, how likeable they are. Alicia Menendez gives illuminating examples in her book "The Likeability Trap," of the challenges women candidates face. She writes "There is a bias against women who seek power, women who think they have what it takes to lead, and women who take credit for their success." In short, in running for political office, women have a lot more hurdles, even though most women run not because they are trying to take credit or grab power, but because they want to improve their communities.
Traditionally, in order to run for office, you also need a well-connected network, you need to be able to fundraise, you need time to campaign, talk to people and learn about the issues. Groups like Emily's List exist to help women build their networks, provide fundraising support, and training. But, many of these organizations only recently started focusing on the compounded challenges that women of color face when it comes to running.
Running for office can be really hard for Latinas, who may not have access to resources or social networks as "traditional" (i.e. white male) candidates do. Latinas face a tremendous wealth gap, earning just 54 cents for every dollar a white man earns, and they are the ones providing care to children or an aging adult, or both.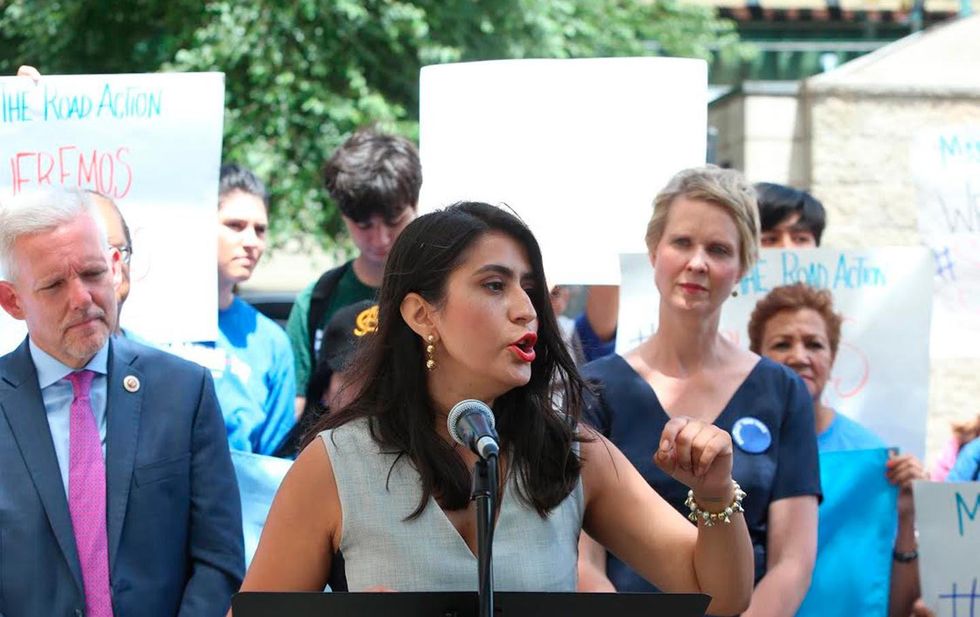 photo credit: Andy Katz
Jessica Ramos, a Colombiana who is currently a Senator in the New York State Senate, says the biggest barriers to running for office are childcare and income, as running for office is a full-time job. Ramos says the only reason she was able to run was because her mother stepped up big time. Campaigning, as The Atlantic put it, "isn't very family-friendly." With these obstacles, it's no surprise that women may face self doubt and need to be intentionally recruited to run for office.
Despite these challenges, we can draw hope from candidates like Ocasio-Cortez who won against an incumbent Democrat through many small donations and without the injection of large sums of money from corporations or political action committees. If you live in a place like New York City, where the Matching Funds Program matches donations 8 to 1 (so, for $100 raised, you get $800 more), you're lucky. Strides are being made to help mothers run for office as well, now that you can use your campaign funds to pay for childcare, thanks to one mom who ran for office in Long Island.
When we see Latina candidates and recognize the barriers they face, we can all take steps to support them. We can support these candidates in a multitude of ways: canvassing, donating, phone or text banking from the comfort and safety of your own home, and/or hosting a virtual party to introduce the candidate to others in your community.
We've heard this time and time again: you can't be what you can't see, and this is why so many Latinas reacted to Emily's List's meme's erasure of Latinas. We must keep demanding to be included, visible and represented.