Latinas Rule the Stage on Bad Bunny's Musical Agenda

@rainaopr
By now, we're pretty sure we've all heard of Bad Bunny. Whether he's giving out hundreds of toys to kids in Puerto Rico, throwin' fan's phones away, or making history as Coachella's first Latino headliner, we can confidently say the record-breaking Top Artist of 2022 is constantly in the spotlight. But what has he done with all that fame and attention?
---
Benito is certainly not one to shy away from making impactful statements on social issues, Latino identity, homophobic and transphobic rhetoric, and gender-based violence, and he has done his fair share of giving back to the Puerto Rican people. While women in reggaeton and traperas are certainly nothing new, Bad Bunny is one of the few male artists who has taken definitive action toward spotlighting and uplifting so many Latina rappers and singers, some already legendary and some of them still working on making it big.
During his record-breaking "World's Hottest Tour," Bad Bunny had over 20 guest artists and influencers join him onstage. Among these artists, there's Ivy Queen, Cardi B, Tokischa, RaiNao, Bomba Estereo's Li Saumet, Buscabulla's Raquel Berrios, The Marias' Maria Zardoya, Villano Antillano, and Young Miko.
La Reina del Reggaeton, Ivy Queen, joined Benito onstage in Chicago, Los Angeles, and Monterrey to perform her iconic songs "Quítate Tú Pa' Ponerme Yo" and "Yo Quiero Bailar," along with a remix of Bad Bunny's "Yo Perreo Sola." The respect and admiration they have for each other is evident, with Benito referring to her as "la Reina" and Ivy Queen stating on her IG, "Si hay algo que no voy a permitir es que me hablen shit de este caballero que para conmigo a hecho más que much@s en este género urbano. El respeto con el cual siempre me trata y las acciones hablan por sí solas."
Another Latina legend that needs no intro, Cardi B had a blast singing "Bodak Yellow" and "I Like It" with Benito, praising him for his success and pointing out there were more people at his sold-out show than at the Super Bowl, "literally artist goal!" she said.
Back in October 2020, Benito dedicated his BBMAs speech to Latina women. "Este premio se lo quiero dedicar a todas las mujeres del mundo entero, especialmente a las mujeres Latinas y de Puerto Rico. Sin ustedes no existiría ni la música ni el reguetón" he said, then continued on with a reference towards violence against women, "Basta ya de violencia machista, en contra de la mujer, vamos a educar ahora en el presente para un mejor futuro."
After his speech, he performed his hit song "Yo Perreo Sola" alongside Ivy Queen and Nesi, regarded by many as a feminist anthem, not without some controversy when it first launched. With Benito in full drag, the music video for the song featured the phrase "Ni Una Menos," an iconic phrase made famous by Argentinian feminist movements used to denounce femicides and violence against women all around Latin America. The performance featured one final message at the end, in case you didn't catch the memo: "Si ella no quiere bailar contigo, respeta. Ella perrea sola."
In 2017,
Karol G
's song "Ahora Me Llama" featuring Bad Bunny was regarded as her breakthrough hit, reaching number 10 on the Billboard Hot Latin Songs chart. In 2018,
Cazzu
was featured on the song "Loca" along with Khea, Duki, and Bad Bunny. The single garnered millions of views on YouTube and Spotify and opened up the path for her to become one of Argentina's top artists.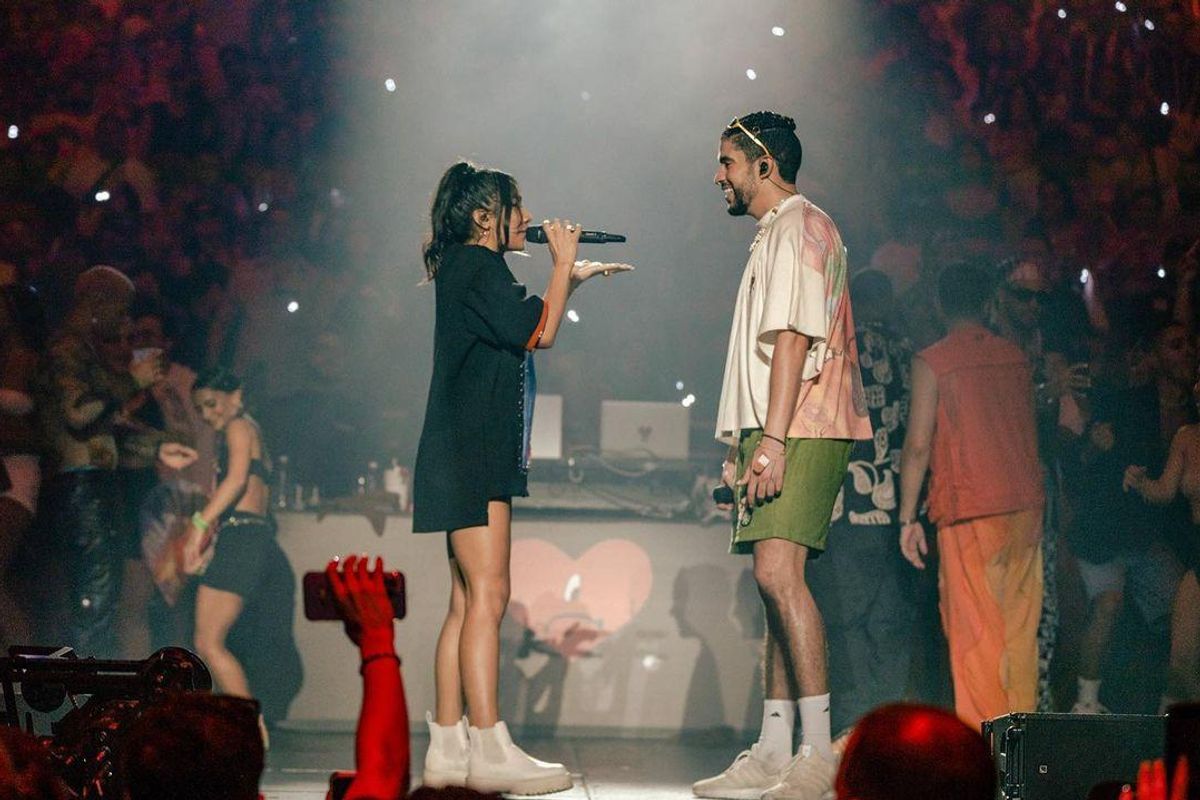 RaiNao onstage with Bad Bunny@rainaopr
After Naomi Ramirez, known by her stage name RaiNao, performed alongside Bad Bunny in PR's Choliseo in front of 19k people, she saw her following and streams rapidly increase. However, she points out, "what I need people to understand is that that's what the music industry is supposed to be — artists supporting artists."
RaiNao is a Puertorrican star on the rise bringing a fresh new take to Latino trap and reggaeton, mixing in sultry R&B vibes, something she calls "Alt-Perreo." After the concert, Bad Bunny shared her single "Limbo" on his IG Story. About that night, Naomi shared in a IG post: "Gracias por tus actos de amor desde siempre, por unir a PR con arte, por la sincronía de anoche, por transformar la tarima en un lugar de apoyo y conciencia y por dar pasos firmes pa' que la industria y el mundo cambien para bien."
Another of Bad Bunny's paisanas, Villano Antillano joined him onstage in San Juan, Puerto Rico. Previously, Villano had spoken out about Bad Bunny's cis-hetero privilege while at the same time recognizing his part in opening up the conversation on machismo and transphobia to a larger, mainstream audience. Having risen meteorically after releasing "BZRP Music Session #5," a collab with Argentinian producer Bizarrap (a collaboration made possible by Bad Bunny himself), Villano's musical career is booming, but not without facing constant backlash and criticism from the media.
In August 2022, the internet went into a frenzy after a clip of Villano kissing Tokischa onstage went viral on social media, prompting viewers and fellow rappers to make homophobic comments regarding the two, even going as far as sending them death threats. Just a few days after, Bad Bunny made headlines for kissing one of his male dancers, a move which many believe was meant to divert attention from Tokischa and Villano and point out the hateful and hypocritical way his peers were treated. To which Villano responded:

Nevertheless, it's clear Villano Antillano and Bad Bunny have each other's backs. In a long, heartfelt IG post, La Villana thanked Benito for making a huge impact by inviting her, the first transgender artist in the urban genre, to share the stage with him, for advocating for change, spreading a message of love and inclusion, and for always being "on the right side of history."
A dream come true for Puertorrican newcomer María Victoria, who goes by the name Young Miko, the 24-year-old rapper had a blast on the world's hottest stage singing her song "Riri" and "Puerto Rican Mami," with Bad Bunny's dancers partying with her and the crowd singing along. She also shared a heartfelt message for BB on her IG that read "Gracias no solo por regalarme la mejor noche de mi vida, sino por todo lo que haces por las mujeres en el género y fuera de la industria de la música. Gracias a personas como tú y gracias a personas como ustedes es que está pasando lo que está pasando."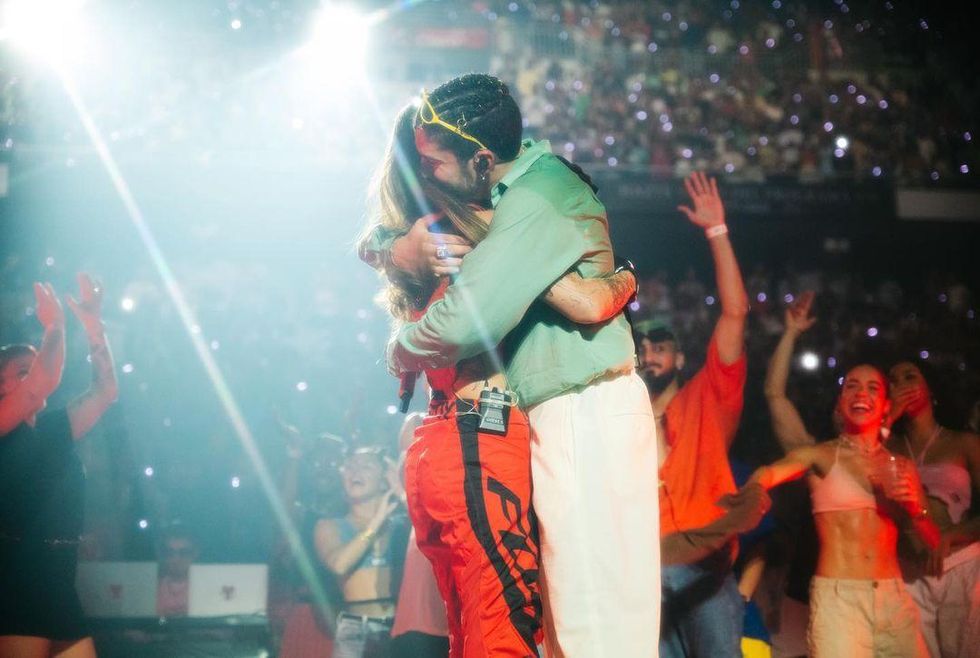 Bad Bunny hugs Young Miko onstage@itsyoungmiko
The onstage party not only featured traperas and reggaetoneras but also showcased many other Latin music genres. Colombian band Bomba Estéreo, whose genre is often defined as "electro-tropical" or "psychedelic cumbia," joined El Conejo Malo for a performance of their shared song "Ojitos Lindos."
Certainly not newcomers by any means, Bomba Estéreo has been around for over 15 years. Nevertheless, this collaboration helped expose them to a whole different market and a new generation. Despite never having collaborated with a reggaeton artist before and being hesitant initially, Lead singer Li Saumet has expressed gratitude and happiness for doing so. Li made the prettiest song she could at the request of their long-time fan, Benito. "Benito quería una canción bonita y es fan de la banda," she said in an interview with Colombia Visible, "yo intenté hacer la canción más bonita que pude y la verdad es que quedó muy linda, estoy muy feliz con el resultado."
Puerto Rican-born wife and husband duo Buscabulla were also featured in the song "Andrea," which highlights gender-based violence, at Benito's request after reaching out to them and confessing he was a fan, too. "Siento que Benito se salió de su zona de confort y no lo hizo de una forma bien adrede ni obvia, sino que jugó con la complejidad" lead singer Raquel Berrios states. Buscabulla's unique music, self-described as "electro-Caribbean," lit up the stage during the "World's Hottest Tour."
María Zardoya, the lead singer for The Marías, took to Twitter to announce Benito as the newest member of The Marías. Just a joke, though, Bad Bunny is still very much a solo artist, but a sweet way to express her cariño and admiration for him after performing their song "Otro Atardecer" together. A bilingual indie-pop band out of LA that has been around since 2016, The Marías are known for their soft vocals, and jazzy tunes, one of the many unique styles and genres showcased in Bad Bunny's tour.

While it's true that being a white-passing, cisgender Latino is a huge advantage for someone like Bad Bunny, gender should not necessarily be a barrier to speaking out about or working to address these critical issues. What matters is taking that spotlight and shifting it towards problems worth talking about and artists worth knowing, and there's no denying that Benito is trying his best to do so. From pushing back against toxic masculinity to recognizing women's historical influence in reggaetón, we hope Benito keeps putting Latino culture, especially Latina artists, en alto.