Four years after Hurricane Maria tore through Puerto Rico, the Biden administration lifted restrictions that prevented the island from accessing Trump-era approved funds. As of 2018 and 2019, the U.S. Department of Urban and Housing Development approved funds to allow Puerto Rico to rebuild after the devastation Hurricane Maria brought to the island. Due to restrictions placed on accessing the funds due to concerns of corruption and mismanagement, the Caribbean island had largely been unable to act on plans for reconstruction.
Now, that's all changed.
Thanks to a recent lift on restrictions that worked to prevent the island's government from accessing relief, Puerto Rico is ready to tap into over $69 billion dollars in aid that has been largely withheld until now. Restrictions originally included federal oversight to supervise the spending of the aid, incremental grant requirements that severely limited what could be done at the time, and more oversight from its federally-mandated financial oversight board, a result of the controversial 2016 Puerto Rico Oversight, Management, and Economic Stability Act (PROMESA).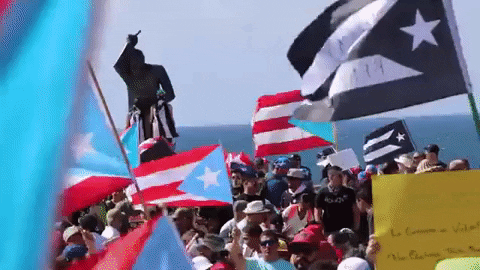 Giphy
Some of the most crucial parts of this aid come at an important time: $20 billion in funding is now available to invest into Puerto Rico's infrastructure. The devastation from Maria presented an opportunity to improve and update the island's power grid after 1.5 million customerswere without power for almost 11 months after the storm, making this the largest blackout in US history.

Governor Pierluisi celebrated this victory, and the elimination of the federal financial oversight board. The governor cites this as a win since it will eliminate any hurdles to getting the aid into the hands of towns that need the most support.
Hemos trabajado duro para ganar la confianza que ahora merecen nuestros funcionarios locales, los cuales han demostrado su dedicaci\u00f3n al manejo responsable de estos fondos. (2/2) #GobiernoDeResultados #TodosPorPuertoRico \n@prsecviviendahttps://bit.ly/2Qxnn84

— Gobernador Pierluisi (@Gobernador Pierluisi) 1618768766
Pierluisi's tweet above reads, "We have worked hard to earn the trust that now our local officials deserve, the ones who have demonstrated their dedication to the responsible management of these funds."
Have you Discovered the Luz Community Yet?
Thinking about traveling, starting a new workout plan, or building your professional skills? We've got it all.
Looking to feed your mind, body, and soul?
Want to join a community with women just like you? We're covering everything from spirituality, to careers, to dismantling machismo.
Breaking news, think pieces, and trending topics, plus special community announcements and giveaways all in one newsletter.
We do not sell your info. That's shady. When you subscribe you agree to our Terms of Use and Privacy Policy.