Will Latinas Be the Key to the 2020 Election? Florida Says Yes

Sponsored by: New Florida Majority
New Florida Majority is building political power of marginalized constituencies in Florida.
Less than two weeks out from Election Day, and Florida's attracting attention. The battleground state has a rapidly-growing Latinx population with the potential to help flip it from purple to blue or red. Latinas are getting in the fight by leading civic education and voter mobilization efforts in Latinx neighborhoods across the Sunshine State.
---
"[Latinxs] have been growing substantially here in Florida, so we are educating our people and making sure they are ready to exercise their right at the polls," Bernice Cabral, a 23-year-old community organizer for the Florida nonprofit Alianza for Progress, tells Luz Collective.
According to a Pew Research Center analysis, about 2.4 million Latinxs are registered to vote in Florida, which is up from 2 million in 2016. Latinxs account for 34% of the state's overall growth in registered voters. While Democrats outnumber Republicans among the Latinx electorate in Florida, state polls show the demographic's support for President Donald Trump and former Vice President Joe Biden virtually tied.
Latinas could be key in tipping the scale, and they'd be in good company. Research numbers show that women vote at higher rates than men. Even more, PRI reports that Latinas are likely to encourage their communities to register to vote and hit the polls.
In Kissimmee, Florida, Cabral is among a sizable group of Latinas throughout the state who have been leading efforts to turn out votes. With Alianza for Progress, she oversees a team of organizers who are calling voters to educate them about voting. Organizers will talk about the ways to vote that include early voting, voting by mail, and voting in person on Election Day. They'll also help people create a voting plan so that they are prepared.
"As Latinas, we are taking on that role to persuade family members and communities that it's time to exercise our right as citizens, and we are doing this for ourselves and for those among us who don't have that right just yet," the Dominican American Cabral said.
In Orlando, Karen Caudillo has spent months registering her community to vote despite being legally unable to cast her ballot due to her immigration status. The Deferred Action for Childhood Arrivals (DACA) recipient works as a community organizer for FLIC Votes, a Florida immigrants' rights group cultivating an active, conscious and representative electorate while also engaging those who can't yet vote.
"I do a lot of this work for my parents, both are undocumented," the 24 year old, who was born in Mexico, tells Luz Collective. "I also want to make sure the next generation of young people have a better future. I want to make sure we are pivoting toward that better future."
Much of Caudillo's work has consisted of phone-banking and producing educational materials that are in Spanish and encompasses the disparate needs of the diverse Latinx population of the state.
While Florida has long been known for its large Cuban populace, the state has one of the fastest-growing Latinx populations in the country, with migrants arriving en masse from the Spanish Caribbean, South America, Mexico, and Central America. As a result, the Latinx community in the state is much more polarized than in other parts of the country. While younger generations of Cuban Americans in Florida have been increasingly leaning Democrat, the demographic still heavily votes Republican. In contrast, Puerto Ricans, who make up the second-largest Latinx group in Florida, have historically voted Democrat and are largely antagonistic to President Trump due to the economic and humanitarian catastrophe that Puerto Rico suffered following his handling of Hurricane María.
Even still, religious affiliations, a flood of disinformation and conspiracy theories, as well as the labeling by right-wing politicians and social media influencers of Democratic candidates as "socialists," have infiltrated Spanish-speaking communities throughout Florida and are propelling new citizens, namely Venezuelans, and longtime Democratic voters, including Puerto Ricans, to re-elect President Trump.
"Florida isn't like other states where there is mostly one centralized Latinx group. Here there are huge populations of Puerto Ricans, Cubans, Mexicans, Venezuelans, Colombians, and more," Caudillo said. "You can't have a standardized message and talking points for all of them… because each community has different issues."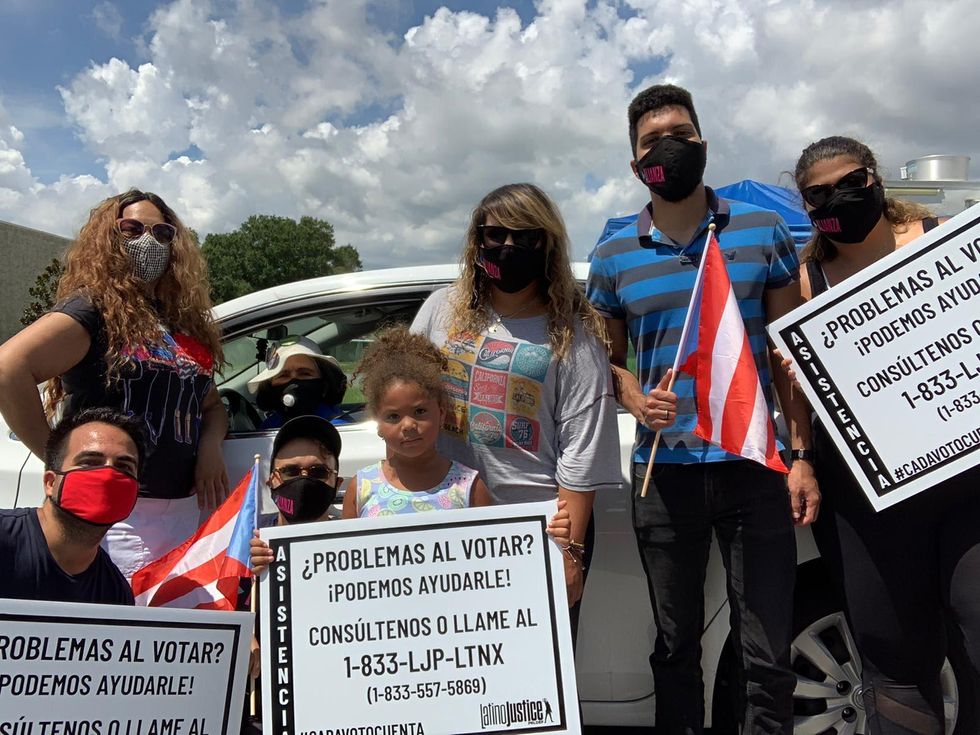 (Photo courtesy of Krizia Ivelisse López Arce)
Bien Puesta Pa' Votar, a digital campaign of La Mesa Boricua de Florida, is targeting the Puerto Rican community specifically. The project utilizes social media to reach Puerto Rican women who moved to Florida following Hurricane María by putting out digital content with slang that is native to the archipelago. Posts also contain illustrations that show the racial diversity of Puerto Ricans and virtual conversations with local boricuas who can effectively speak to the struggles and needs of the community.
"For me, our role is the deciding vote. It's key," Krizia Ivelisse López Arce, a radio show host, and community organizer behind Bien Puesta Pa' Votar, tells Luz Collective. "We as women bring the strength of our community, we are the matriarchs and we are the ones who make the decisions."
In addition to creating visually-driven and culturally proficient informative content that empowers Florida Latinas to vote and embolden their friends and families to join them, López Arce also co-organized a focus group of Latina voters in Central Florida and learned that many of the women's views toward civic engagement conflicted with long-held beliefs about the demographic. While the migrants, who tended to work multiple jobs to get by, are often regarded by pollsters and political campaigns as unlikely voters, an overwhelming majority of the women expressed acute interest in learning about the candidates, voting in the 2020 Election, and electing women leaders.
López Arce has a lot in common with the women her campaign targets; she also moved from Puerto Rico to Orlando a month after the Category 4 hurricane razed her homeland. Puerto Rico's more than 3 million U.S. citizens can't vote for the president, and now López Arce will vote in a presidential election for the first time.
"I've been waiting all 33 years of my life to vote. And I can do it now – for me, for my mom, for my nieces [and] for Puerto Rico," she says.