www.out.com
Growing up in the age of superhero movies, everyone from all ages flocked to the movie theaters to catch the latest summer blockbuster only to find the majority of superheroes were men. It wasn't until 2017 that Women Wonder became the first female-led superhero film in decades, with Captain Marvel following up in 2019.
---
While we appreciate the move to feature more women superheroes, Latina representation is still largely absent in the superhero world, but that's starting to change. Here are five Latina Superheroes you should know about.
Miss America aka America Chavez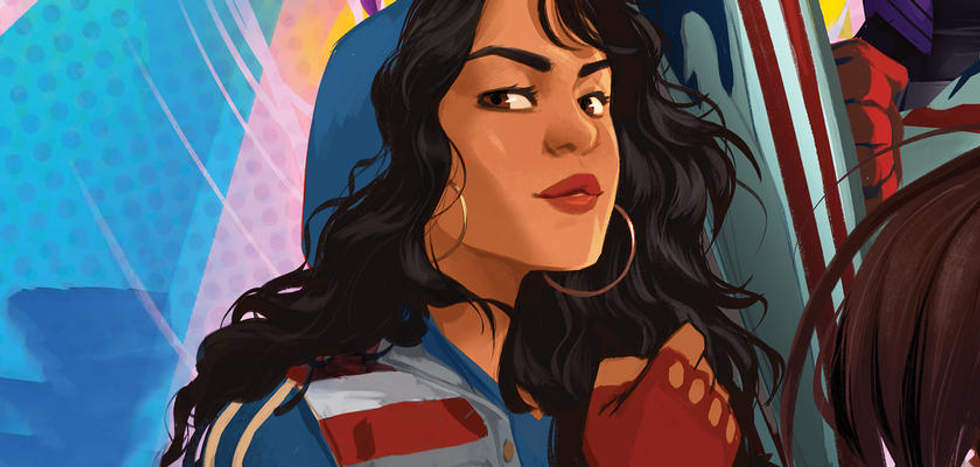 Image via Marvel
Who else is super excited for Multiverness of Madness? We certainly are, and yes we love Dr. Strange and Wanda, but what has us jumping up the walls is Miss America's MCU debut. Not only are we going to have a big Latina character up on the screen, but we are also seeing her in one of the most expected MCU movies at the time, which means her audience will be large no matter what. The actress playing her is Xochitl Gomez, and if you don't know much about her yet, let's just sum it up, she's an amazing actress who will, without doubt, make this character justice.
Marvel's lesbian Latina superhero first appeared in 2011 in a limited series titled Vengeance. Born in an Utopian Parallel outside of time and reality, Chavez was raised by two superpowered mothers. By absorbing the energy of being called the Demiurge, Chavez demonstrates the ability to travel to different dimensions, time travel, fly, and increase super speed and strength.

After her mothers were killed protecting Utopia from destruction, America ran away from home and traveled to earth where she was adopted by a Puerto Rican family in the Bronx.
Jalisco
A crime-fighting folklorico dancer on a mission to save her mom from the violent femicide happening in Mexico? Give me a copy of the book now! Written by film director and writer Kayden Phoenix, Jalisco is a graphic novel that focuses on the story of a girl who is taken under the wing by a band of Adelitas that teach her how to fight against Malinche, the fictional character behind the femicide. Jalisco is part of the Latinas superhero universe created by Phoenix that center female injustices and social causes.
La Borinqueña
WEPA! Marisol Rios De La Luz is a Columbia University undergrad student majoring in Earth and Environmental sciences. While she takes a semester abroad at the University of Puerto Rico, she explores the caves of Puerto Rico and finds five crystals which untimely give Marisol her powers — strength, the power of flying, and control of the storms. La Borinqueña is also voiced by Rosario Dawson in various promotional announcements and has teamed up with Wonder Woman, Superman, Batman, and other characters in her graphic novel series.
Firebird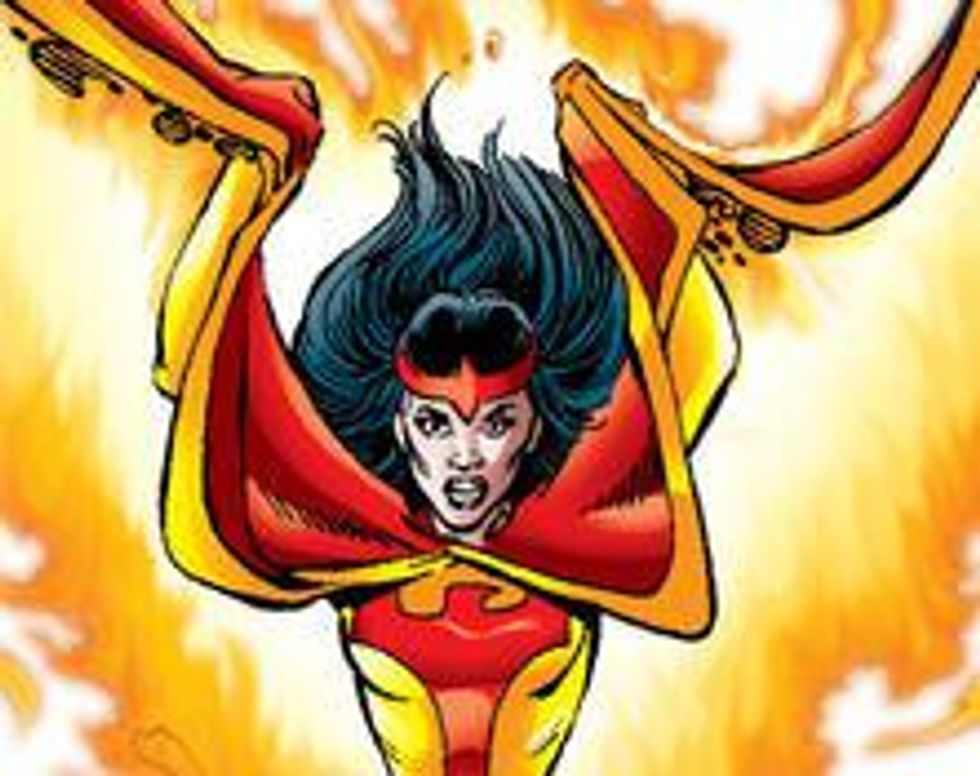 Image via Marvel
Known as one of the most notable Latina superheroes, Bonita Juarez is a social worker and a devoted Catholic. While walking in the deserts of Albuquerque, New Mexico, she came into contact with a radioactive meteorite. Juarez came out unharmed, but the radiation altered her DNA and gave Juarez the ability to fly, along with the power to generate heat and flames. Believing her powers came from God, she decided to name herself Firebird and use her powers to protect the people in the Southwest.
Spider-Girl aka Anya Sofía Corazon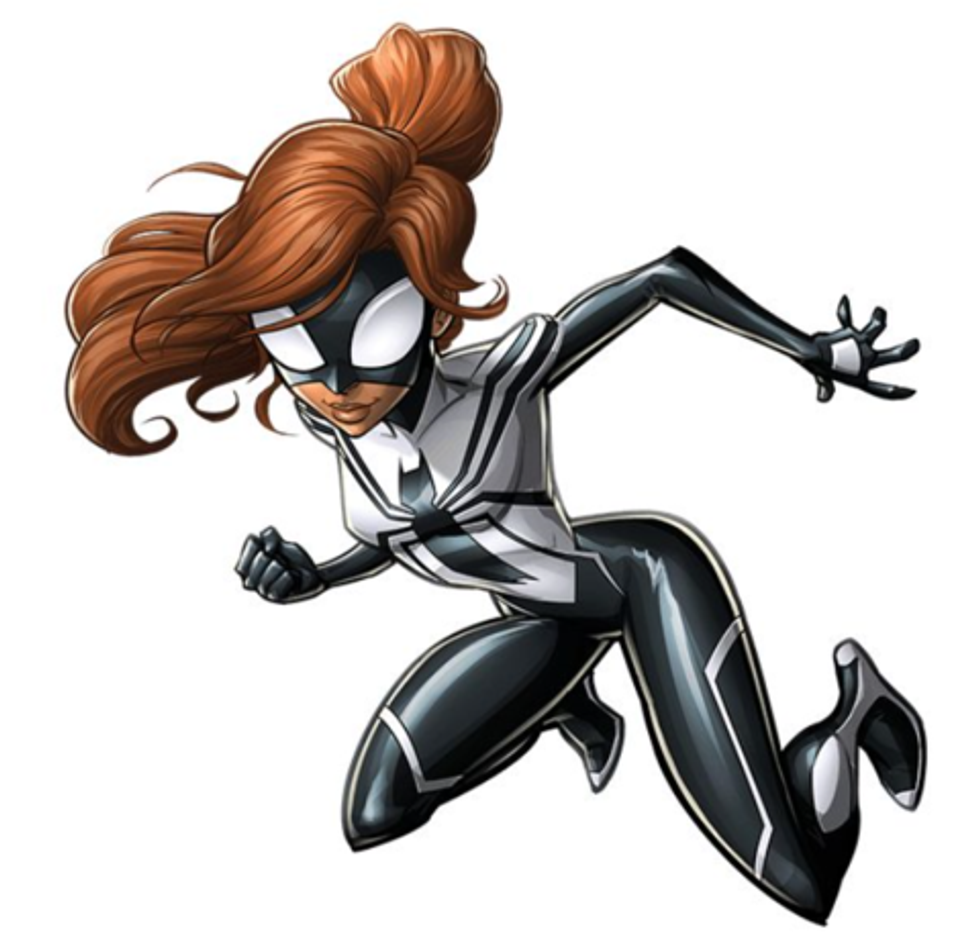 Image via Comic Vine
We know that with great power comes great responsibility. 17-year-old Anya is a gymnast from Brooklyn, New York City. She was brought to the United States from Mexico by her father after her mother was killed. On Anya's first day of school, she was caught in a fight between two mystical clans called The Spider Society and the Sisterhood of the Wasp, and was left fatally wounded. A sorcerer from The Spider Society transferred some of his powers to Anya to save her life. From there she received a spider-shaped tattoo that gave her enhanced strength, agility, and the ability to grow a blue exoskeleton that covers her skin. We hope to see Anya make her debut in the Spider-Verse flims!
From Your Site Articles
Related Articles Around the Web