Conchas, Community, and COVID-19 - this Panaderia has come a long way

Photo credit: Charity Burggraaft
"I'll call the migra on your parents," Mariela Camacho remembered hearing from her schoolmates growing up in San Antonio, Texas. "Kids would say that to be mean," said Camacho, the daughter of Mexican immigrants. "I don't think they knew what they were saying, but it was a threat." Those words left a lasting impression. And it's one reason why Camacho raises funds for immigrants and other marginalized communities through her business, Comadre Panadería, even during a global pandemic.
---
Camacho started Comadre Panadería in 2017 while living in Seattle. She associates "comadre," with her mom who would use it with Camacho's aunts. "Comadre is your homegirl, a friend who looks out for you," Camacho writes on her website. She always knew she wanted to work with food even though she didn't have the best relationship with it growing up. Her parents worked multiple jobs, so she lived off fast food like Taco Bell and Little Caesars. She still remembers the taste of the packs of chocolate chip cookies her dad brought home from his job at the Hilton Hotel. "My mom was a really good cook," Camacho said in a recent phone interview with Luz Collective. "It's just that they both worked so much."
She worked in her first kitchen when she was a teenager in San Antonio and eventually moved to Austin. When she wanted a change from Texas, she moved to Seattle in 2014, where she honed her skills and learned about sourcing local and more ethically sourced ingredients. But eventually, she found herself missing Texas, along with her family and the food, particularly pan dulce and breakfast tacos. "I miss everything that I grew up eating and was a part of my life every single day," said Camacho.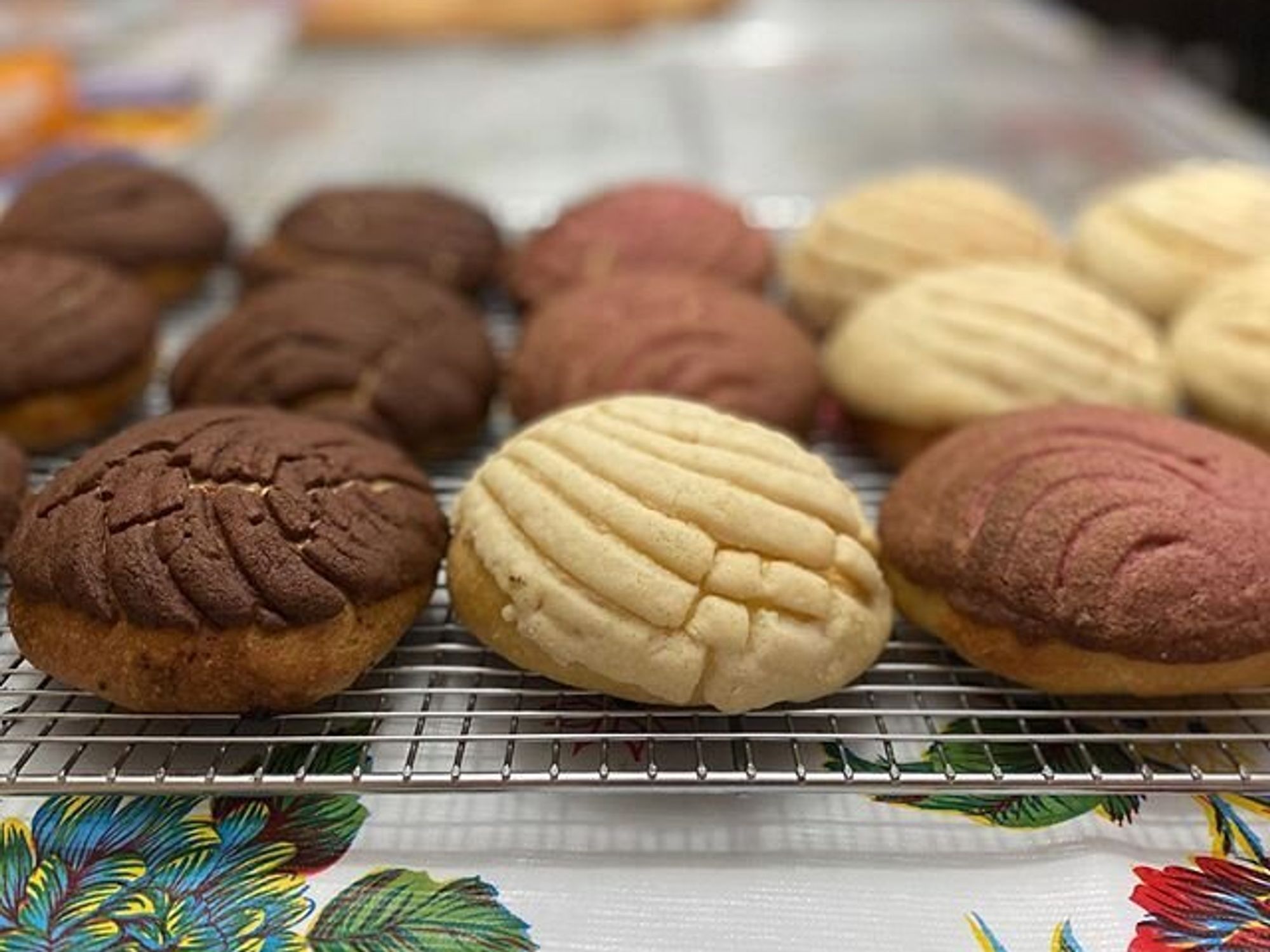 Photo Credit: Charity Burggraaf
She was also tired of hearing that she had to work in a French bakery to gain legitimacy. "It was the standard to make French pastries," said Camacho. "All the bakeries were French. That's what you compared your work to. That's the books you bought. Those were the chefs you inspired to be." But to her, making the pastries she grew up eating required just as much skill and training. "Why are we not giving pan dulce and these Latin American baked goods the same respect?" said Camacho. "I want people to respect the food I grew up eating."

So Camacho started making pan dulce with organic ingredients to sell at pop-ups around Seattle. On the menu are empanadas (pies with sweet or savory fillings), pink cake (corn cake with pink frosting), traditional conchas (brioche bread topped with a cookie shell resembling a seashell), and some vegan and gluten-free options.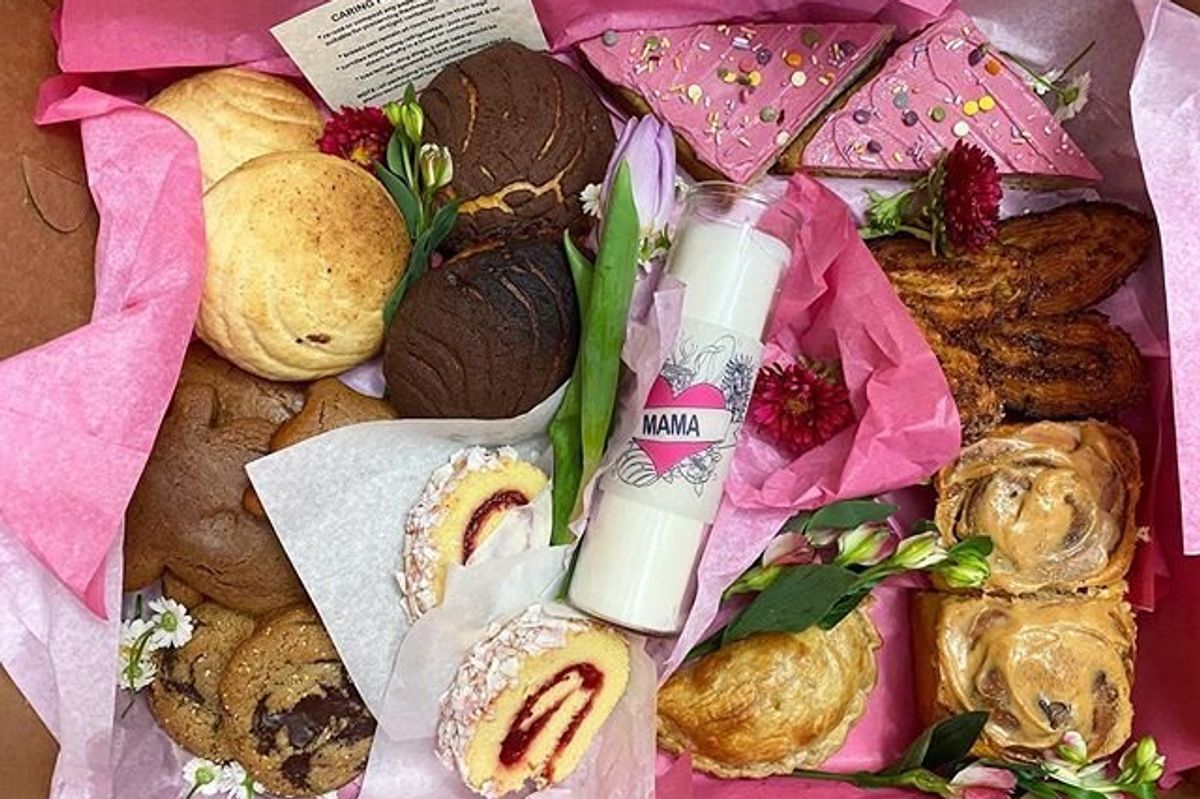 Photo Credit: ComadrePanaderia
Seattle is a predominantly white city with people of color making up 35 percent of the population (Latinos make up just 6 percent). But when Camacho started offering these traditional pastries, her business started to pick up with wholesale and personal orders outside the pop-ups. "I was surprised, but it was really amazing just how people wanted to eat the food that I was making," said Camacho.

The chef had to shift her business model once the COVID-19 pandemic unfolded on March 2020, two months after she moved back to San Antonio. She left Seattle with the intention to break away from her 70-hour workweek and travel with her bakery, but her 13-year-old dog Stevie had a health issue that used most of Camacho's savings (Stevie is now fine). Before COVID-19, she was looking for a retail space, but quickly changed plans. "I just didn't feel comfortable doing that anymore because I didn't know what the next couple of months were going to look like," said Camacho.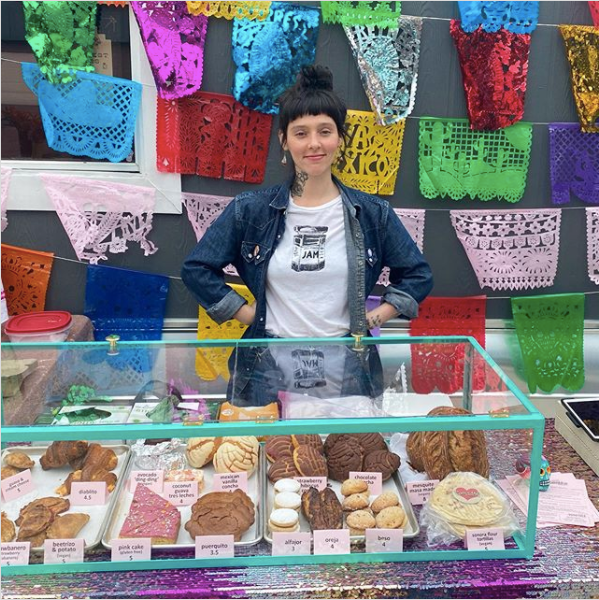 Photo Credit: Comadre Panederia Instagram
Many businesses, including small businesses like Camacho's, shuttered their doors to decrease the risk of spreading the virus, which also left employees out of work. The Bureau of Labor Statistics reported that unemployment rose to 14.7 percent, representing 20.5 million people who have lost their jobs as a result of the pandemic. For Latinos, the rate is 18.9 percent, the highest for any racial group. That meant nearly 1 in 5 Latinos were unemployed.
Add that reality to the fact that up to 90 percent of minority and women-owned businesses didn't receive Paycheck Protection Program (PPP) loans because they didn't qualify or the funds were depleted by the time they applied. Camacho is self-employed and didn't apply for a PPP loan, but she did apply for an Economic Injury Disaster Loan. She requested $10,000 but only received $1,000, which she said was still helpful to her. "Really anything is helpful at this point," said Camacho. "I always knew that the government wasn't really going to help me through this time anyways, so for me, it feels like keep trying to do your own thing and work your way through it. There's so many other people that need more help than you, so you just keep on chugging away."
And that's what she did. She has shifted her business from pop-ups to weekend deliveries in San Antonio and Austin, cities that are an hour and a half apart, with her partner's help. She's also continued to use her business to fundraise. Back in 2020, she donated a portion of her Mother's Day sales to Sueños Sin Fronteras de Tejas (SSFTX) Empowerment Fund, a San Antonio-based collective led by Latinx and Women of Color that provides "health and healing support and access to immigrant womxn and children in the U.S.'' Camacho was introduced to them when she returned to San Antonio and did a similar fundraiser for them earlier that year. "I think they're doing really amazing work," said Camacho. "I love the work that they're trying to do specifically with women or women-identifying people, so I felt that I really wanted to raise money for them for Mother's Day."
Her inclination to help others stems from growing up with immigrants and watching them get taken advantage of at work. She just wants better for people. "In my mind, how can you not be furious and actively try to change things," said Camacho. "That's also me coming from my privilege. I totally understand that not everyone can do something or be proactive about stuff, but I am luckily able to do something. So as long as I can, I will."
Camacho will continue with deliveries until she can figure out how to return to pop-ups and grow her business safely and responsibly. "I'm just taking it day by day, trying to do the right thing and stay afloat," said Camacho.
Update April 6, 2023:

Mariela and Comadre Panadería are taking a big step forward, and the community can participate in it. They're expanding into a new space, and they've launched a GoFundMe to help finance their dream. After surviving the pandemic and a shaky economy, they continue to be hopeful for the future.