There's an iconic scene toward the end of the 2002 movie "Real Women Have Curves" that cemented the film's status as a powerful moment for Latina representation.

Fed up with the sweltering summer heat in her sister's East Los Angeles dress factory, 18-year-old Ana Garcia, played by actress America Ferrera, takes off her shirt. Ana's mother, Carmen, played by Lupe Ontiveros, quickly moves to cover her daughter's body.
"Look at you; you look awful," Carmen says, referring to Ana's weight.
"How dare anyone try to tell me what I should look like, or who I should be, when there's so much more to me than just my weight," Ana says during the exchange.
Ana's sister and another woman working in the factory come to her defense. To Carmen's horror, the women each start to remove their clothes to compare their perceived body flaws. By the end, they are laughing, sewing dresses in their underwear and vibing to music in a powerful display of pride in their body fat, their stretch marks and their different sizes.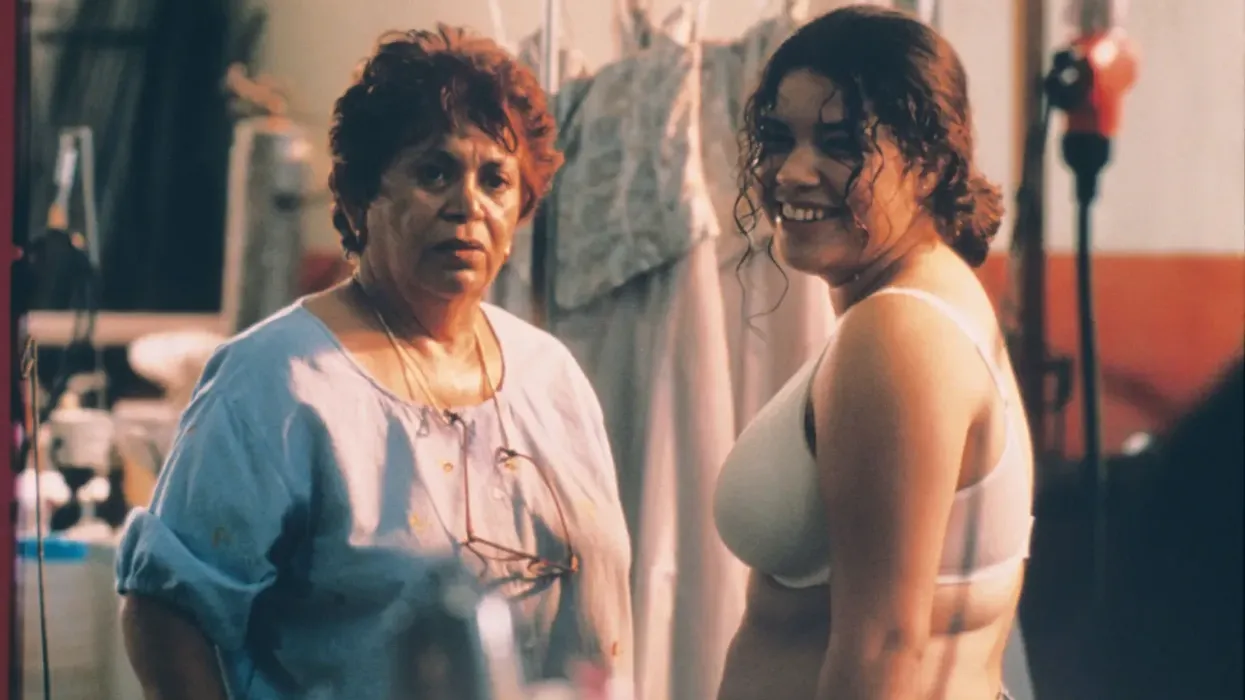 Lupe Ontiveros (as Carmen Garcia) and America Ferrera (as Ana Garcia) in Real Women Have Curves (2002) directed by Patricia Cardoso (HBO)
Patricia Cardoso, director of "Real Women Have Curves," knew it was an important story to tell. At the time, few other films had centered the stories of Latina girls and teens in the United States, she told The 19th. "Real Women Have Curves" offered a glimpse into a world that was relatable to so many: the financial considerations for a working-class family, a complicated mother-daughter relationship, a first-generation Mexican-American teen with dreams of going to college in New York City.
In the 21 years since its release, the number of Latina coming-of-age stories has increased — and so has the representation within them. There are more actresses being cast and a wider variety of viewpoints being told that reflect the complexity and humanity of a diverse population that has historically been reduced to harmful stereotypes. But both in front and behind the camera, disparities remain, Latina women in the film and television industry told The 19th.
"There's still a lot more needed because there's not enough representation," Cardoso said. "I teach at the University of California, Riverside, now, and the majority of my students are first-generation college students. They have only seen themselves reflected on screen a few times growing up, and it's usually not realistically and not dealing with the issues they face."
One 2021 study by researchers at the University of Southern California analyzed 1,300 top-grossing films between 2007 and 2019 and found that 3.5 percent, or 45 of the movies, had Latinx leads or co-leads. Of those 45 films, 24 of them had Latina leads.
Across the 100 top-grossing films in 2019, 35 had no Latinx characters at all and 59 had no Latina characters. Ninety-five of the films had no Latinx characters with disabilities, and 98 had no LGBTQ+ Latinx characters.
The study shows both existing challenges for Latinx representation, and how the numbers have improved somewhat over the years.
Like Cardoso, for filmmaker Aurora Guerrero it was difficult to think of many movies or television shows 25 or 30 years ago that depicted the adolescence of U.S. Latinas. Mainly, there was "Selena," the 1997 movie starring Jennifer Lopez about the life and rising fame of Mexican-American singer Selena Quintanilla.
The year 2002 brought "Real Women Have Curves" and the Disney Channel original movie "Gotta Kick It Up!," both starring America Ferrera. The latter tells the story of a dance team at an under-resourced middle school in Southern California. The movie has received some criticism for the absence or Afro-Latinas and for repeating a common White savior narrative in Hollywood, with a non-Latinx teacher stepping in to save the school dance team.
Still, "Gotta Kick It Up!" remains a treasured nostalgic re-watch for many Latina millennials. In different ways, "Real Women Have Curves" and "Gotta Kick It Up!" showed layers to the Latina teen experience. There were nerdy bookworm characters in addition to the rebellious cool girl. Some faced high expectations from their families or experienced anxieties navigating a White-dominated society.
For years, Latina characters have been hypersexualized, portrayed as loud and vain or as very strict and religious, without much nuance. Those portrayals can affect how the world treats Latinas and how Latina girls see themselves. Research indicates that seeing negative stereotypes or portrayals of women and girl characters in entertainment has harmful effects on mental health and body image.
Seeing more varied examples of Latinas as children and adults can help young Latinas understand they are not alone in their experiences, said Rosa Parra, a film critic who writes for The Daily Chela, a Chicano and Hispanic news website. Certain characters can also help young girls envision what their lives could be like in a particular career or at a particular college, Parra said.
Addressing stereotypes is a balancing act because some stereotypes develop from a seed of truth, she added.
"Do I have a tia or cousins who are very religious? Absolutely. And yes, I know people who can be loud and obnoxious sometimes. But it's about showing a range of personalities and lives," she said. "We're such a diverse group of people. We have different shapes, sizes, skin tones, hairstyles, cultures and languages. It is unfair to just paint all of us as a monolith."
More exploitative Latinx depictions often flatten a character into a single trope without adding more depth, Guerrero said. She worked on the set of "Real Women Have Curves" as an assistant to Cardoso while working on her own groundbreaking feature film.
Ten years after "Real Women Have Curves," Guerrero's "Mosquita y Mari" premiered. The 2012 film follows two Chicana teens in Los Angeles as they deal with school and family, in addition to their romantic feelings for each other.
Guerrero builds the connection between the two teen girls through subtle glances and touches that capture the butterflies, the confusion and the fear that many LGBTQ+ teens experience with a same-sex crush. Guerrero said she was tired and angry about the continued lack of queer Latinx stories in film and television.
"I wasn't afraid to do it. I felt it was necessary, and I was empowered to do it," Guerrero said. "The only thing that scared me was the question of whether I was going to be able to get funding for it."
Initially, that fear was a reality as Guerrero struggled to get the money she needed. Ultimately, her team crowdfunded an $80,000 production budget, and "Mosquita y Mari" was released to critical acclaim.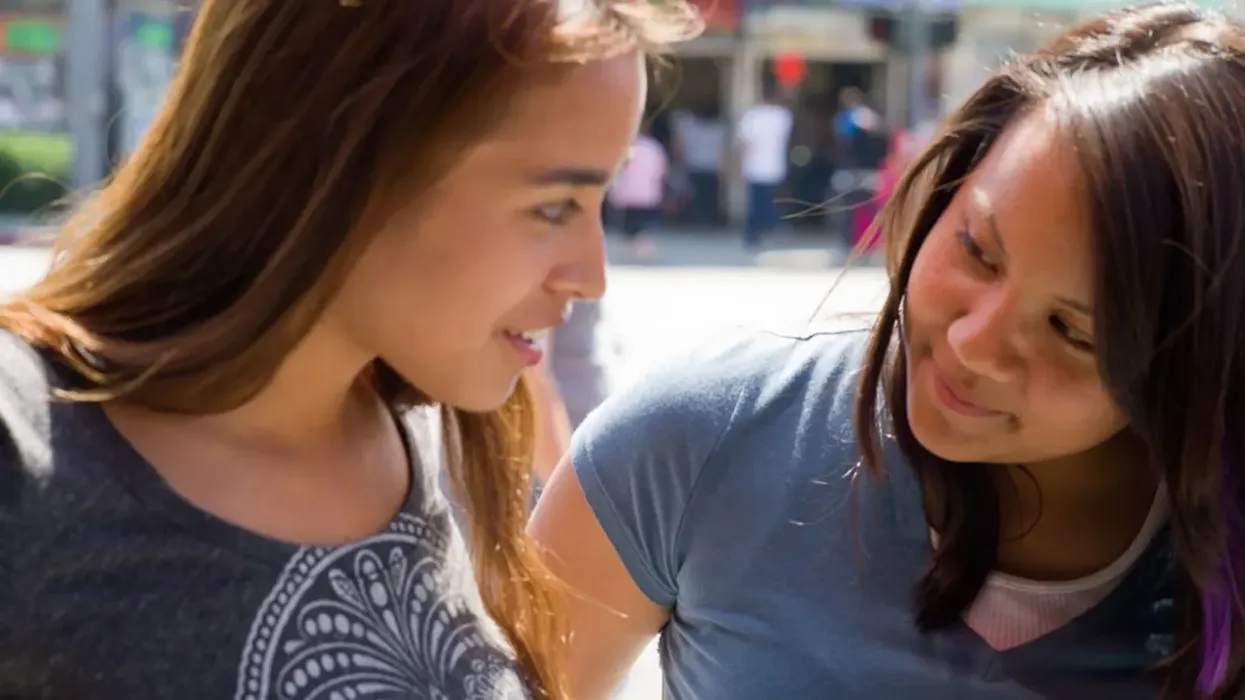 Venecia Troncoso and Fenessa Pineda in "Mosquita y Mari" (2012) directed by Aurora Guerrero (THE FILM COLLABORATIVE)
Today both "Real Women Have Curves" and "Mosquita y Mari" are celebrated for breaking barriers of Latina storytelling in film; however, Cardoso's and Guerrero's struggles did not end after these successes. Following their respective films, they both faced years of rejection and struggled to find other opportunities as directors and filmmakers. Cardoso said she couldn't get work as a director for 15 years after 2002. For Guerrero, she continued to face hurdles nearly three years after 2012.
In both cases, Black filmmaker Ava DuVernay offered a lifeline, by bringing them on to direct episodes of her Oprah Winfrey-backed show "Queen Sugar." The support from DuVernay helped them to maintain steady work in television, they said, but it also highlights an ongoing problem for Latinx storytellers. "Not a lot of people have that ability. Not a lot of people have Ava to be their bridge. You know, she can't hire everybody," Guerrero said.
Over the past couple of decades, new projects have emerged elevating different Latinx perspectives, including the shows "Gentefied" and the reboot of "One Day at a Time," and movies like Marvel's Spider-Verse series and DC Universe's "Blue Beetle," which both focus on male characters. Blockbuster movies focused on young Latinas are still harder to find, with 2019's "Dora and the Lost City of Gold" and this year's "Spy Kids: Armageddon" as notable exceptions.
Creating more pathways for a larger variety of Latinx people to have a role in film and television creation will allow more authentic storytelling and coming-of-age films that young people can relate to.
"So many women of color, so many Latina women get passed over for an opportunity to direct," Guerrero said. "So there are these barriers that are very difficult to get past when people don't take the time to really see you, to really consider you and let you compete with your talent."
Have you Discovered the Luz Community Yet?
Thinking about traveling, starting a new workout plan, or building your professional skills? We've got it all.
Looking to feed your mind, body, and soul?
Want to join a community with women just like you? We're covering everything from spirituality, to careers, to dismantling machismo.
Breaking news, think pieces, and trending topics, plus special community announcements and giveaways all in one newsletter.
We do not sell your info. That's shady. When you subscribe you agree to our Terms of Use and Privacy Policy.