Morena Mia is Making the Popular Dark Feminine Energy TikTok Trend A Fashion Statement

Morena Mia, the Queer Latina-owned slow-fashion retailer, and eclectic creative hub, has partnered with the notable Latina-owned intimates brand Señora Calzones once again to create a limited-edition Brujita-inspired intimates collection in collaboration with La Brujita Del Jardin.
---
The collection is inspired by the manifestation poetry book, Cosmica, written by Latina Author and Brujita Poet Natalie Garcia. Since its release, the book has been highly acclaimed and embraced by manifesting Latinas and brujas everywhere.
The Morena Mia 7-Piece Exclusive Collab between La Brujita Del Jardin and Señora Calzones includes a glamorous Diosa lace robe with feather sleeves (Venus Robe $222), a seductive matching two-piece black lace intimate set (Lilith $99) available sizes XS-XXXXL, and a manifestation ritual box including a rose-scented Cosmica Candle, Cosmica Affirmation Deck, Cosmica Poetry Book, and a Venus-Lilith Ritual Card (Cosmica Ritual Box $166) to tap into the dark feminine energy within.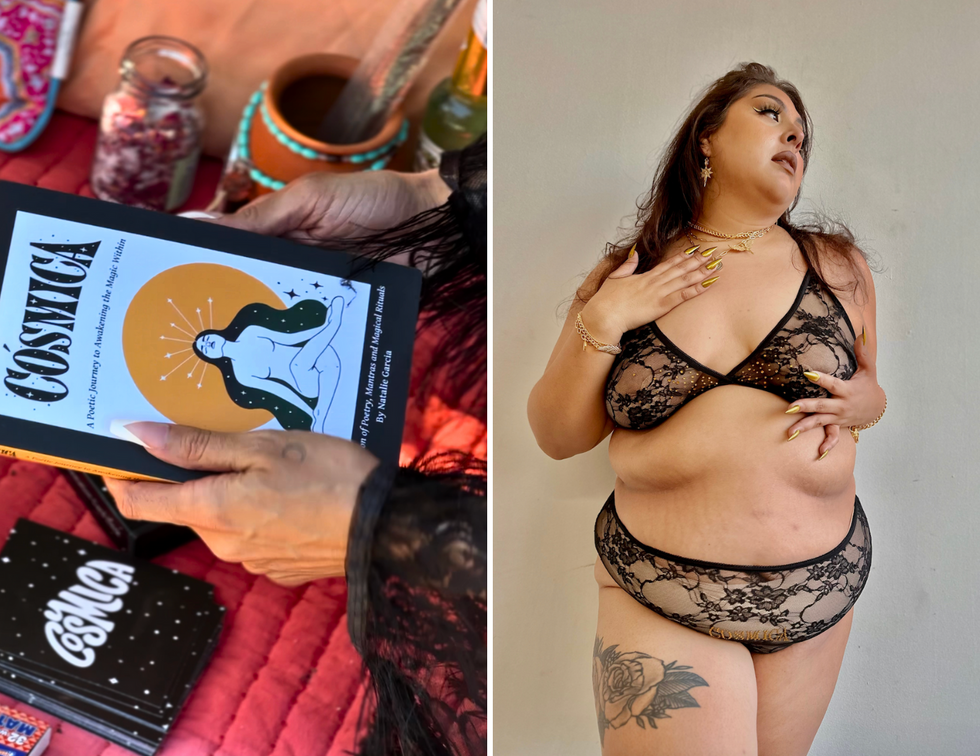 Morena Mia is highlighting brands like Señora Calzones and La Brujita Del Jardin to shine a light on the popular TikTok conversation of dark feminine energy through a sultry limited-edition intimates collection. Specifically shining a light on the dark feminine term to remove the negative connotation and decolonize the practices and lifestyles of BIPOC women who do not align with Eurocentric standards.
The sexuality and spirituality of Women of Color have always been demonized and controlled by hetero men who can have a limited perspective of what femininity can mean. When it comes to non-confirming spirituality, embracing ancestral and Indigenous practices is still often deemed "evil" and "devil-worshiping." Even within communities of color. This is largely due to the conditioning of colonization and white supremacy.
In the subject of sexuality, many women of color are seen as less than for embracing and taking control of their own sexuality and not appealing to the mainstream standards of what is appropriate and palatable. Meanwhile, mainstream media and sources alike lack transparency towards the continuous hypersexualization and fetishization of Latinas and Black women through these patriarchal and misogynistic narratives.
Beyond the sexual revolution of the dark femme, the seductive intimate collection takes you on a journey to evoke the duality of femininity fearlessly. The body-inclusive Morena Mia editorial campaigns, audacious poetry, sensual garments, and unapologetic spirituality create an energetic reflection that sexuality and spirituality can be merged and revolutionized.
The Cosmica Collection will be available on July 27, 2023, exclusively on shopmorenamia.com, the one-of-a-kind retailer focused on breaking the barriers of high fashion and adapting more non-confirming campaigns to encourage BIPOC femme individuals to boldly and audaciously manifest their dreams into reality without asking for permission.


More about the BIPOC brands
Morena Mia, the new Latina Queer-owned eclectic slow-fashion retailer centered on highlighting BIPOC designers and brands, is known for their bold and inclusive luxurious campaigns pushing melanin-enriched skin and indigenous features to the forefront. It has established a trusted reputation for becoming the one-stop shop for the latest indie, street, and underground fashion trends born from barrios, slums, and ranchos. Blurring the line between street and high fashion, Morena Mia is making our barrios the runway. To learn more, visit shopmorenamia.com and follow the latest fashion trends @shopmorenamia.
Señora Calzones is a Latina-owned lingerie and loungewear brand created for diosas! They represent the freedom and liberation of repressed sexual pleasure and self-exploration. Offering both custom-made creations and ready-to-wear, every piece is intentionally designed in Long Beach, California. With each creation, Señora Calzones focuses on channeling the divine feminine within each mujer, one lingerie piece at a time. Visit senoracalzones.com and follow @senoracalzones.
La Brujita Del Jardin is a lifestyle manifestation brand created by writer and poet Natalie Garcia that reflects her own multidimensional lifestyle. The magic of the brand is centered on self-love, healing, self-awareness, emotional stability, and mindfulness. La Brujita Del Jardin's manifesting tools combine the power of words and affirmations to create a positive manifesting mindset and guide individuals tap into their own magic to manifest their dreams into reality by embracing their light and shadow parts and aligning them within. For more information, visit labrujitadeljaridn.com and follow the manifestation @labrujitadeljardin.