Angel City FC brought a hit show to Los Angeles

Meg Oliphant, Getty Images
After more than ten years, Los Angeles finally has a women's soccer team back in the city. Angel City FC made its official debut in the National Women's Soccer League (NWSL) in 2022, and now it's time to see what they did right and how they can improve both on and off the field.
---
I was beyond excited when it was announced back in July of 2020 that Los Angeles was awarded the right to an expansion team, and the announcement came with some heavy hitters in the ownership group. Sophia Bush, Eva Longoria, Jennifer Garner, America Ferrera, Gabrielle Union, and her daughter Kaavia Wade revealed themselves amongst the star-studded ownership group. Their money made it clear that Angel City was going to be a big deal.
\u201cAngel City FC, the National Women\u2019s #Soccer League franchise in Los Angeles, wraps its first season by blowing past its financial goals https://t.co/eREdGVNfNq\u201d

— David Blenko (@David Blenko) 1664854202
And the money only grew from there. Even before the season started, Angel City was able to bring in $35 million worth of sponsorship revenue, which included a deal with shirt sponsor DoorDash. President Julie Uhrman even said back in March that she believes "Angel City has more sponsorship revenue today than two hands worth of men's professional sports teams." The only question was, would all of this investment translate to attendance and viewership?
The short answer: Yes.
LA showed love for its newest team
Angel City averaged over 19,000 fans per game this past season, which beat over half of MLS teams in the same time frame, and even sold out four of their eleven home games. A preseason match between Angel City and the San Diego Wave in April drew over 450,000 TV viewers, which outpaced all of that week's MLS matches. The fans showed love early and often, and the praise continues even after the season ended.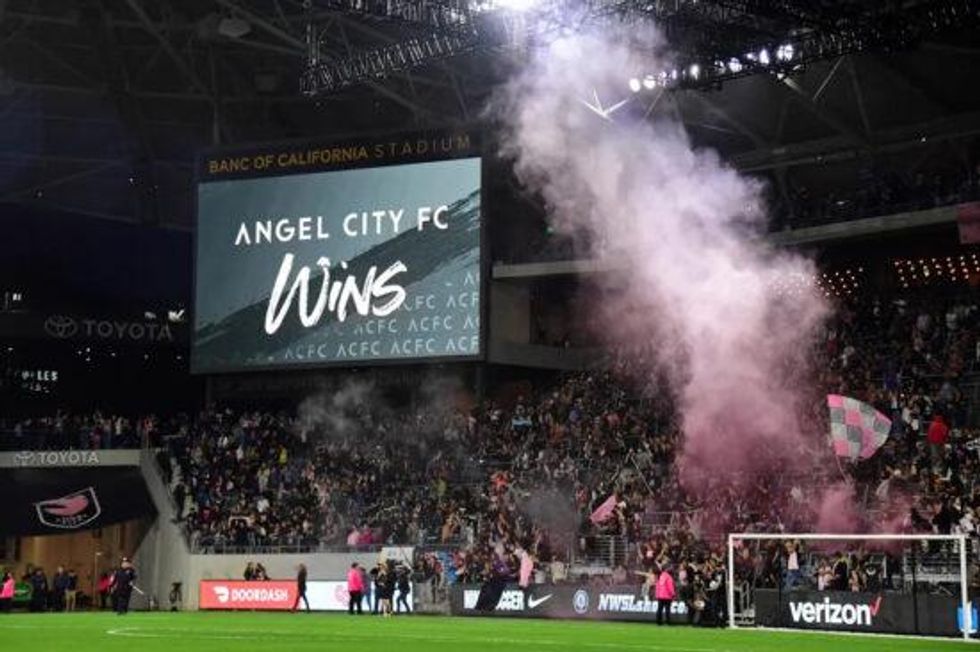 Gary A Vasquez, USA TODAY Sports
I decided to talk to fans about their experience supporting the club. When I asked Adriana what Angel City meant to her she said, "Having a women's team so close to me is just amazing…..I am actually able to go sit in a stadium and cheer them on." Another ACFC fan, Francia Hernandez, echoed Adriana's statement: "It honestly means everything to me. It's amazing to have women's football so close to me and to have a community with similar passions.
"Angel City is going to become a staple in LA entertainment and sports because of how electric the stadium feels every game."
But despite the energy the city showed out for its newest club, it didn't come without issues.
An unfriendly experience with Mexican teams
Back in August, Angel City hosted Liga MX Femenil team Tigres in a friendly, and then in September they hosted the Mexican Women's National Team in what is now called the Copa Angelina. While there was nothing negative I heard about from the club friendly, I did hear a lot of negative things when the Mexican National Team came to play.
\u201c#Women | We are here \u2013 and we\u2019re here to stay. \ud83d\ude0e\ud83d\ude46\ud83c\uddf2\ud83c\uddfd\n\n\u200d\u200d\u200d\u200dWe introduce you, Incondicionales... the \ud835\ude3e\ud835\ude64\ud835\ude65\ud835\ude56 \ud835\ude3c\ud835\ude63\ud835\ude5c\ud835\ude5a\ud835\ude61\ud835\ude5e\ud835\ude63\ud835\ude56. \ud83e\udd29\u26bd\ud83c\udfc6 \n\n#HechoDeLosMexicanos | #TuCanchaLaEligesT\u00fa\u201d

— Mexican National Team (@Mexican National Team) 1656342054
As it is with a lot of moleros, Mexico was essentially the home team, and that was evident with more than half of the stadium filled with green jerseys. Mexico ended up winning 2-0, but it wasn't all smiles for Mexico. According to ACFC fan Francia, "…there were reports of Mexico fans feeling uncomfortable due to some ACFC fans."
I was at that game, and I agree with that statement. I got weird looks cheering for Mexico even though I'm a fan of both teams. I even heard a guy behind me say, "Oh, it looks like a Mexico home game I see," with disdain in his voice. I just shook that comment off and enjoyed the game. Honestly, it's kinda sad that people couldn't feel fully comfortable there, as Mexican fans usually have a comfortable time watching their teams play in Los Angeles.
This won't be the last time teams from Liga MX Femenil or El Tri Femenil will be coming to Los Angeles, and the club should take note about these incidents when they next host them.
Angel City fell short on the field, but not in the city
Questionable rotations and injuries doomed Angel City from the start of the season, especially with USWNT start Christen Press tearing her ACL midway through the season. Angel City finished eighth out of twelve NWSL teams and will not be going to the playoffs, but that doesn't mean this season was a failure.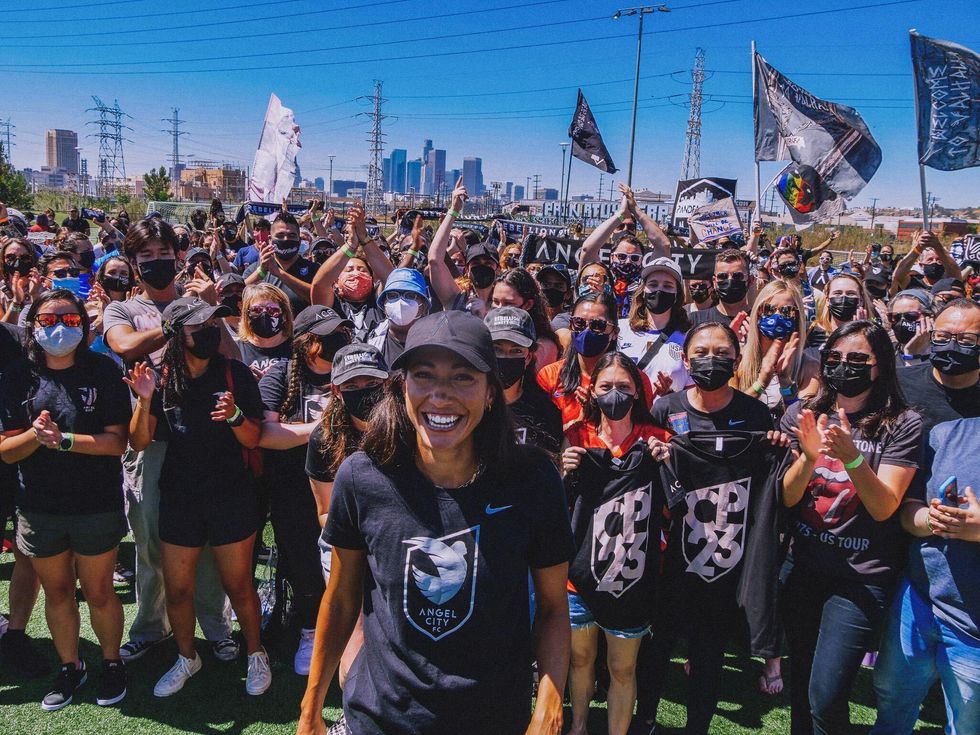 Angel City FC
You cannot discredit what they have been able to achieve in their inaugural season. Both Francia and Adri would agree, saying: "It makes me so happy and a little emotional to know that little kids have a women's team here in LA to look up to," and, "it means a lot to me that LA youth has female athletes to look up to." I didn't have that growing up, so seeing that the younger generation now has that feels incredible. This is just the start for Angel City, and I can't wait to see what happens next. Join the ride, it will be a fun one!
Article reposted with permission fromCabra Sports.