Bad Bunny is Making History for Latinos Through His Music

We've all seen the TikTok challenges, heard the hits, and are well aware of the cultural phenomenon that is Bad Bunny. Benito Antonio Martínez Ocasio, or as we know him, Bad Bunny, is changing the entire landscape of history for Latinos through his music. With the release of his latest album, "Un Verano Sin Ti" debuting at the top of the Billboard 200 chart as No.1, El Conejo Malo shows no signs of slowing down anytime soon and we are here for it.
---
Ocasio was bagging groceries at his local Econo supermarket and taking classes at the University of Puerto Rico Arecibo as an audiovisual communications student when his beats posted on SoundCloud were noticed by DJ Luian in 2016. Multiple record deals, collaborations, and a few years later, the artist known as Bad Bunny has now shifted the entire industry to celebrate his contributions to reggaeton and Latino culture too.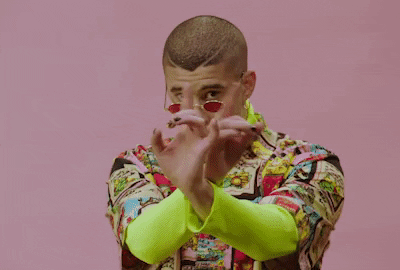 El Conejo Malo Latino GIF by Bad BunnyGiphy
Bad Bunny makes history not only because of his chart-topping status but also because of his direct influence in contributing to the idea of being proud of your Latino heritage. For many living biculturally is hard, and many young Latinxs in the US (despite being very proud of their culture) encounter this challenge in their everyday lives.
Born Americans due to the Jones Act, many Puerto Rican celebrities have only achieved success in the mainland United States by delivering easily palatable media in English for American audiences. Think J.Lo, Ricky Martin, Luis Fonsi? All were only known in American households once they produced content in English, usually in collaboration with Americans themselves.
Bad Bunny, on the other hand, has managed to capture the hearts of both Spanish and non-Spanish speakers across the world producing his music only in his native tongue, something the rapper has never shied away from. Though he also experiments with the sound of his music with every release, the trap/reggaeton artist is also committed to bringing reggaeton (a genre that evolved from other Latin American countries but ultimately was made in Puerto Rico) to everyone around the world.
Photo courtesy of The Daily Show
Ocasio has been able to do this while showing up authentically as himself, every time; in 2019, he released the "Afilando Los Cuchillos" feat. Puerto Rican legend of Calle 13 fame rapper Residente and singer iLe.
The song, in English meaning "Sharpening the Knives," was released almost overnight amidst the protests against Puerto Rican governor Ricardo Rosselló and his government due to a leaked group chat where the body count of dead Puerto Ricans was mocked after Hurricane Maria devastated the island two years prior. Ocasio flew from Spain where he was on a European tour to join the protests demanding the governor resign along with a group of high-profile Puerto Rican celebrities and activists.
Since then, he has been an active voice in encouraging Puerto Ricans of all ages (but especially young ones) to participate in their elections to make the governing of the island more just.
Residente, iLe & Bad Bunny - Afilando los Cuchillos (Cover Audio)www.youtube.com
All of this to say is to say that Bad Bunny has accomplished what no other Latino artist has been able to do: bring Spanish-language music, specifically urban music, to the forefront of the world cultural stage without needing to compromise himself to do so.
With the rise of Bad Bunny, artists who perform all of their music almost exclusively in Spanish (such as Colombian reggaetoneros Karol G and J Balvin, to name a few) have gone on to be major stage performers at American music festivals like Coachella. Majorly established artists like Drake, Nicki Minaj, Dua Lipa, and more have collaborated with artists in the genre, a true rarity that has arguably not occurred within other genres by comparison.
In a world where Latinos have always needed to fight for representation, Bad Bunny is claiming la cultura for us and making a name for our community in spaces where we weren't even allowed through the door before. ¡Pa'lante!