Latine Led Movies and Shows to Support Amidst the Actors and Writers Strike

Latine representation in Hollywood has historically been limited, but this year seemed poised to mark a significant change. With movies such as "Blue Beetle" leading the charge, a wave of optimism swelled within the community. This film, directed, written by, and starring Latinos, was highly anticipated to make a splash at the summer box office.
---
But now the film faces an unexpected challenge. Strikes by the Writers Guild of America (WGA) and the Screen Actors Guild-American Federation of Television and Radio Artists (SAG-AFTRA) have severely affected the promotion of upcoming films. With union members actively supporting the strike and deciding not to promote their projects, marketing efforts have been stifled. This means that, although "Blue Beetle," scheduled to premiere on August 18, represents an important milestone for Latino representation, its cast is unable to promote it.
Despite these challenges, the community has rallied together.
In a tremendous show of unity,
27 prominent Latino organizations and media outlets
, including the Congressional Hispanic Caucus Institute, LA Collab, Latino Film Institute, and this media outlet Luz Media, collectively penned an open letter urging the community to "amplify the work that countless Latino artists have worked so hard to create." The movement behind this cause is gaining momentum online with the hashtag
#SupportLatinoCreatives
.
Blue Beetle: More Than a Movie - A Cultural Triumph for Latinos
The "Blue Beetle" centers on Jaime Reyes, a Mexican-American teenager. A mysterious robotic scarab that attaches to his spine provides him with a powerful armored suit, but this seemingly miraculous gift comes with its challenges. Jaime soon finds out that the scarab has its own consciousness, sometimes controlling him rather than the other way around. It's a fresh story, an intersection of cultural identity and superhero genre, making it a much-anticipated watch.
Directed by Puerto Rican director Ángel Manuel Soto and written by Mexican screenwriter Gareth Dunnet-Alcocer, "Blue Beetle" stands as DC Studios' pioneering superhero film championing strong Latine representation both onscreen and behind the camera.
Xolo Maridueña
graces the screen as the lead character, Jaime Reyes. His presence is complemented by
Harvey Guillén
, embracing the role of Dr. Sanchez, and
reggaeton
sensation
Becky G
lends her voice to the mystical Khaji-Da.
George Lopez
portrays Uncle Rudy Reyes;
Elpidia Carrill
o takes on Rocio Reyes;
Raoul Max Trujillo
embodies Carapax the Indestructible Man;
Adriana Barraza
portrays the caring Nana;
Jorge Jimenez
as Uncle Chema Reyes;
Bruna Marquezine
brings to life Jaime's love interest, Penny;
Belissa Escobedo
stars as Milagros Reyes;
Damián Alcázar
depicts Alberto Reyes, and the iconic Susan Sarandon introduces us to Victoria Kord. With such a stellar cast and crew, the anticipation for "Blue Beetle" is undeniably palpable and historic.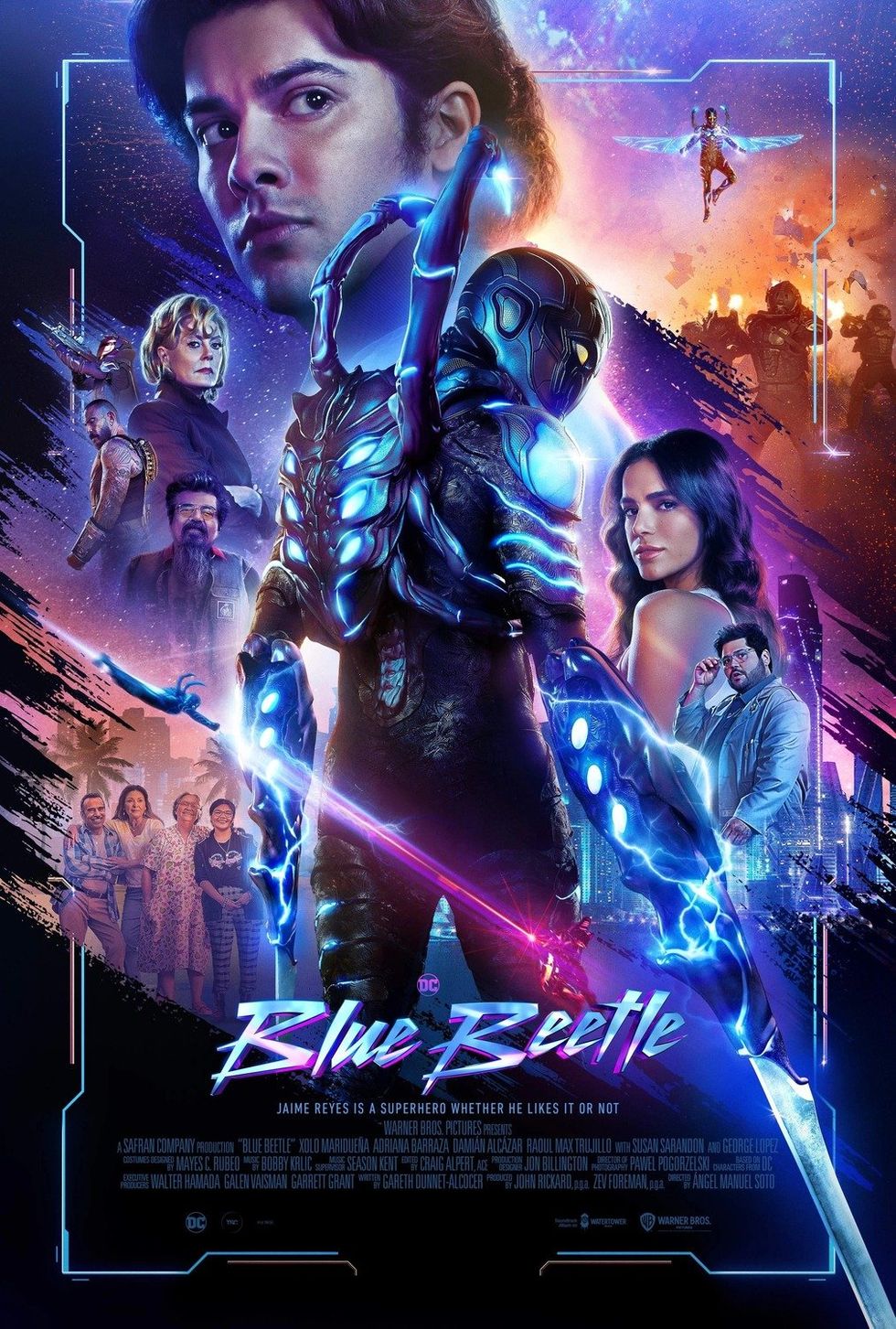 But the spotlight doesn't end with "Blue Beetle." A slew of movies and shows showcasing Latino talent are lined up:
"Cassandro," set to release on September 15, 2023, in theaters, "Cassandro" tells the real-life story of Saúl Armendáriz. Known as the "exótico" character, Armendáriz, a gay amateur wrestler from El Paso, rises to international prominence. Gael García Bernal, Roberta Colindrez, and Raúl Castillo lead the cast.
"The Hunger Games: The Ballad of Songbirds & Snakes" reintroduces fans to the universe of Panem. Releasing in theatres on November 17, 2023, this prequel features Rachel Zegler and offers insights into the young Coriolanus Snow, future president of Panem.
"Aristotle And Dante Discover The Secrets Of The Universe." Adapted from Benjamin Alire Sáenz's renowned 2012 novel, this coming-of-age romantic drama by Aitch Alberto delves into the lives of two Mexican-American teenagers in 1987's El Paso, Texas. Aristotle and Dante, played by Max Pelayo and Reese Gonzales, forge a profound bond, their connection spotlighted against a vivid Texan backdrop. The star-studded ensemble includes Verónica Falcón, Kevin Alejandro, Eva Longoria, and Eugenio Derbez. Having made its debut at the 47th International Toronto Film Festival in 2022, movie-goers eagerly await its theatrical release by Blue Fox Entertainment on September 8, 2023.
"Radical," premiering at the 2023 Sundance Film Festival, where it clinched the "Festival Favorite" award, plunges into the challenging landscape of Jose Urbina Lopez Elementary in Matamoros. With students facing an oppressive environment laden with violence and dismally low academic achievements, the film presents Eugenio Derbez in the role of Sergio Juarez, a teacher desperate to change their fate.
"This Fool" Season Two, debuting on August 18, 2023, on Hulu, this TV comedy is inspired by Chris Estrada's personal experiences. It humorously spotlights Julio Lopez, a 30-year-old navigating South Central Los Angeles, while seeking his own fulfillment. The anticipated second season sees Chris Estrada return as Julio, with notable co-stars like Frankie Quinones and Michelle Ortiz. With its relatable comedy and vibrant character dynamics, the show promises both laughter and reflective moments.
Despite the obstacles created by the strikes, the Latino community in Hollywood has demonstrated resilience and unity. With powerful stories waiting to be told and an audience eager to listen, there's no doubt that these films and shows will leave a lasting impact, both on the industry and viewers worldwide.