You Better Vote, read to the beat of RuPaul's You Better Work.
---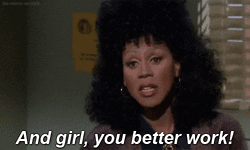 The Brady Bunch Movie Work GIFGiphy
On this episode of Tamarindo, hosts Brenda and Ana Sheila discuss the 2020 Election. From the Supreme Court to course correcting on immigration, there are so many reasons to vote in November and not only against Trump. Brenda and Ana Sheila discuss the policy priorities that some of the Tamarindo podcast listeners shared with them and talk about what is at stake with this election. They each share why they are voting, their plan to vote, and make promises to step up their advocacy because they know that no one can afford four more years of the same.
As a palette cleanser for your ears, this episode ends with a love story. So many of you enjoyed the last episode on love that Brenda and Ana Sheila wanted to continue the reflections on relationships. This episode ends with a recording of a live performance of Brenda telling a story of a meaningful first date. This performance was pre-Covid at an excellent event called Talking While Female, hosted by Teatro Luna, an all-Latina theater ensemble.
Tamarindo podcast, part of Luz Collective, is the Latinx show where hosts discuss politics, pop culture, and how to balance it all con calma, hosted by Brenda González and Ana Sheila Victorino, and edited by Michelle Andrade.