How Two Colombian Sisters Are Elevating Latinas in Media With Their Platform

Natalia and Carolina Trejos make up the duo that run "Pinkafé," a TV show focused on empowering women and Latinas in media.
---
The sisters are the first duo to have their own TV show airing on Latino Alternative TV (LATV), a bilingual broadcast network that serves as a "direct link to the growing voice of the Latino experience."
What makes the Trejos' story even better is that they're deeply relatable in their quest to create a real sisterhood among women. Their story of resiliency in immigrating from their native Colombia to Ecuador then making their way to the United States is a source of inspiration for aspiring Latinas.
"We want to inspire and empower our viewers with opportunities, educate them with available options when it comes to finding a true passion and doing what they love for a living. We have our 'why' very present and our mission is to make sure our Pinkafesas know theirs as well," Carolina Trejos said when asked about Pinkafé's goals.
The millennial Latinas began their journey at the helm of Pinkafé first with a blog, that then later developed into an online fashion boutique, and then found its home as a podcast. Once they were offered the opportunity to develop the podcast into a TV show, the sisters were on board full steam ahead. Their experience as Latinas in media enabled them to bring their show to the next level in featuring Latina leaders and entrepreneurs. These conversations work to amplify Latina representation in a media landscape where Latinas are commonly underrepresented and misrepresented.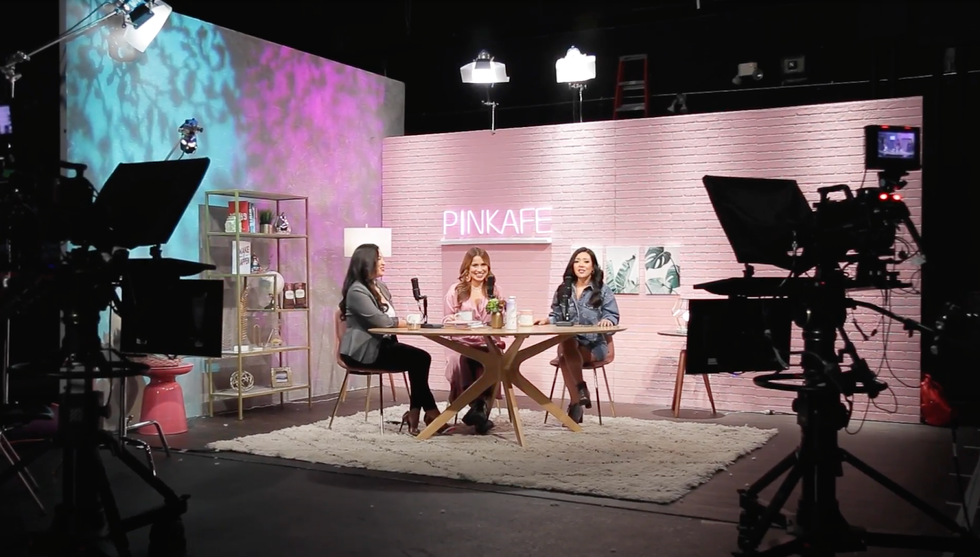 Photo courtesy of PinkaféPhoto courtesy of Pinkafé
With a mission of working to elevate women's voices, foster collaboration, and provide commentary on their own experiences, the Trejos' are making history with Pinkafé. The show covers a wide variety of topics, with the sisters discussing everything from their own journey of creating a platform, to producing their own TV show and podcast, to speaking from their own experiences on the importance of creating boundaries in the workplace with family members, the breadth is as broad as the audience they're representing.
Pinkafé's 4th season's can be viewed every
Tuesday on LATV
. You can also find
past episodes of the show here
.
From Your Site Articles
Related Articles Around the Web