La Marea Verde: Latin-American Women's Abortion Rights Movement Gains Momentum in the U.S.

Source: Wikimedia Commons
On a Saturday in April 1977, a group of mothers gathered in the Plaza de Mayo in Buenos Aires, Argentina. Their purpose was clear - to demand information about their children who had disappeared during Jorge Rafael Videla's dictatorship. Despite facing immense danger, they were determined to make their voices heard.
---
As they sat in the square, their numbers grew. Eventually, police forced them out of the area, but this only made them more resolute in their mission. They continued to meet, rally, and demand answers relentlessly.
During a pilgrimage to Our Lady of Luján in October of that same year, the mothers finally decided to identify themselves as a group. Distinguished by a plain white headscarf, which is believed to represent
the diapers of their missing children
, adorned with their embroidered names and birth dates, the mothers stood as a symbol of unity and collective sorrow.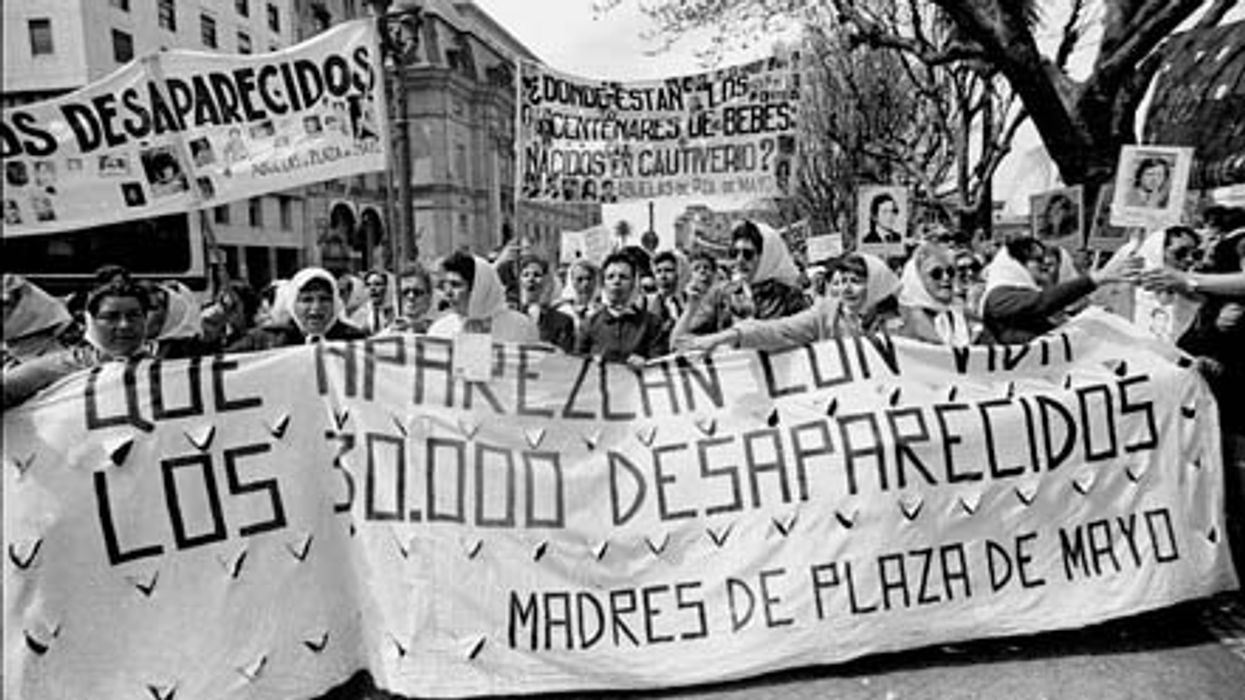 The Mothers of la Plaza de Mayo demand their children be presented alive, 1981. Source: Wikimedia Commons
It was then that Las Madres de Plaza de Mayo became a force to be reckoned with. Their protests and demonstrations would lead to numerous advancements in laws and regulations to locate, identify, and bring justice to their missing children. Their bravery and determination would inspire generations to come.
From the mothers' fight, two powerful symbols were born: the weekly marches every Thursday at 3:30 in the afternoon around the Piramide de Mayo, and the white scarf worn on their heads. These symbols would come to represent not just the mothers themselves, but an entire movement that grew and evolved around them.
The Evolution Of A Movement
In 2015, the #NiUnaMenos movement began in Argentina, driven by the need to put an end to the alarming number of women being murdered in the country. It was a movement that quickly gained traction, as people from all walks of life rallied to demand justice and change.
Three years later, the movement took on a new dimension. In 2018, more than a million activists flooded the streets of Argentina, their green handkerchiefs waving in the breeze, representing hope, health, and life. They were there to support the legalization of abortion, but they were also there to send a powerful message: that women's lives matter, and that they will not be silenced.
The green handkerchiefs soon became a symbol of resistance and solidarity, much like the white handkerchiefs worn by the Mothers and Grandmothers of the Plaza de Mayo during Argentina's dictatorship years. Their fight for justice had been an inspiration to many, and now, the green handkerchiefs were taking up the mantle.
And so, La Marea Verde, or the 'Green Wave' emerged as a movement advocating for women's reproductive rights in Latin America, driving a shift in the conversation on women's sexual and reproductive health and rights to the forefront of the public and political agenda in several countries. Their relentless campaigning has resulted in significant legal actions and raised awareness around abortion, yet more work remains.
Latin America is a region of diverse cultures and traditions, but when it comes to abortion, there seems to be a general consensus on its prohibition. Only a handful of countries in the region allow women to terminate their pregnancies, and even then, only under certain circumstances.
Argentina, Colombia, Cuba, Guyana, Uruguay, and some states of Mexico (Mexico City and Oaxaca) are the only places in Latin America where women can legally request an abortion. However, even in these countries, the process can still be challenging due to social stigma and limited access to healthcare services.
Meanwhile, in El Salvador, the Dominican Republic, Nicaragua, and Honduras, abortion is completely prohibited. In these countries, women seeking to end their pregnancies face legal consequences, including imprisonment.
As the fight lives on and the debate on abortion continues to evolve, La Marea Verde's efforts have laid the groundwork for future progress.
Lessons To Be Learned
While countries like Mexico, Argentina, and Colombia have made progress in liberalizing their abortion laws, the U.S. is headed in the opposite direction, slowly stripping away women's rights across the country.
But where U.S. courts and states have failed, the Marea Verde in Latin America has succeeded. With a unified front across countries and no affiliation with specific political parties or organizations, they have slowly but surely helped increase abortion access in several Catholic-majority countries in the region through protests and legal action.
The recent meetings between U.S. advocates including the Women's March and the Marea Verde groups are nothing short of historic. They have come together to discuss strategy for the first time, marking a major step forward in the fight for reproductive rights. Despite the challenges of an increasingly hostile political landscape, these advocates refuse to be silenced. Instead, they are emboldened by the shared values of justice and equity that unite them across borders.
In the face of adversity, the La Marea Verde movement has risen up with an unyielding spirit and a steadfast resolve to protect the fundamental right to choose. Together with their allies in the U.S., they are poised to make even greater progress, challenging any attempt to limit reproductive autonomy.